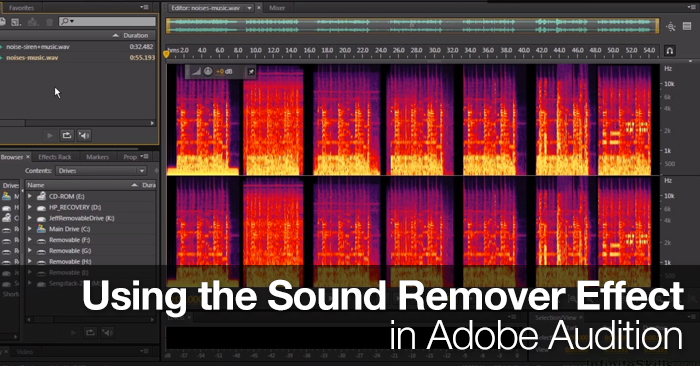 Using the Sound Remover Effect in Adobe Audition
Pick up unwanted sounds in the background of your audio? Learn how to remove them in this Adobe Audition video tutorial.
In a perfect world we can all shoot films on sound stages with perfect acoustics and high-end audio gear, but more often than not, we aren't afforded this luxury. Street noise, airplanes, cellphones, and (worst of all) chatter, plague indie-film audio. As we've discussed in the past, a film is 50% video and 50% audio, but all-to-often indie-filmmakers focus on the visuals while making audio an afterthought.
As we've already discussed in our "Removing Background Noise in Audition" Adobe Audition has a lot of tools for removing general unwanted noise, but what if you want to remove a very specific sound? The answer is simple, Audition's Sound Remover tool.
This Adobe Audition video tutorial covers:
The Learn Sound Model Button
Adjusting Sound Remover Settings
Working with Presets
This tutorial was first shared by Infinite Skills on their YouTube channel. Thanks for sharing guys.
The best way to get good audio is to record it right the first time! Pick up some tips for on-set audio recording in our 'Fundamentals of the Boom Operator and Location Mic Techniques' post.
Have Adobe Audition tips to share? Share in the comments below.