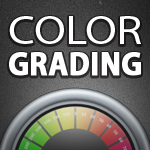 Music Video Color Grading Breakdown
Create a visually engaging black and white, split channel color grade.  Using a music video as a case study, we'll show you how to mimic this stylish look in post using Final Cut Pro.
My good friend and excellent video editor Neil Edwards recently cut this 'live' music video for up and coming London band MoRo's "Laying Down Your Ghosts".  Before we jump into the color grading technique see it in action (best viewed full screen and full HD resolution):
What I love about what Neil's done is that he has injected some energy and storytelling polish into the fabric of the film just through the music videos' color grade. He kindly supplied me with his Final Cut Pro 7 project so I could unpick just how he's created this great look, which you can see coming through on the song's very catchy chorus.
Step 1 – The Grade
Here you can see the original ungraded shot and what Neil has done to correct it and set up the look. It is important to keep these filters stacked in this order in Final Cut Pro 7's filters tab.  Otherwise you won't end up with the result you are after.  Click any of the images in this post for a larger view.
Step 2 – The Split
In this next step Neil makes excellent use of the 'Bad TV' filter in FCP7 which is most often used just to make footage look like it is on a Bad TV with a fuzzy, wavy, pixellated look.  In this grade Neil has pulled the Color Synch slider all the way to the left (-15) to split out the red and blue channels, which are slightly offset. This gives the footage a lovely edge to it. What also helps to sell the effect is that it is only applied to the chorus when the song really kicks in.  Video editing wisdom: less really is more.
Step 3 – The Shake
In the third and final step the Earthquake filter is added with a few fine adjustments to help add a little bit of shake and rattle to the footage. This really helps to sell in the earlier split effect as if the image is tearing itself apart. It also helps to inject some great energy into what would otherwise be static tripod shots. By using this look sparingly on the choruses and then adding a touch of glow to the final chorus it also helps to structure the visual storytelling of the music video.
If you like the song check out MoRo's website at www.moroband.com.  Want to use this unique split channel color grading look on your own project.  Here are the Final Cut Pro settings Neil has used to create the look (note: no 3rd plugins are necessary):