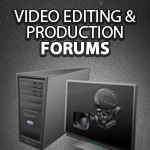 Troubleshooting for Video Professionals – Six Forums You Need To Know
Knowing where to look for the solutions to your artistic, technical and creative career problems is half the battle to finding the solution you need. These forums may have the answer.
If you're anything like me, your immediate solution to almost any problem in life is just to 'Google it'. This is pretty much what I do when I'm at work and have gotten stumped by all the normal fixes. Someone, somewhere has hopefully had the same problem I'm facing and has been thoughtful enough to write about it on the internet. But then you still have to find their post amongst the millions of search results.
Checking through these creative forums however, stocked full of the best professional advice money can't buy, should save you some time. They each have an active professional user base that is willing to share their video production and post production knowledge. Some of these forums require you to sign up to post, but all are free.  Be sure to bookmark these links!
Everything Creative – Creative Cow
The first stop on any forum search has to be Creative Cow's epic forum which has been going for over 13 years and hosts an eclectic range of topics from After Effects to Zaxwerks. Check it out here: forums.creativecow.net.  Creative Cow is great for troubleshooting Adobe, Apple and Avid video editing products, but as you can see there's something here for every video professional:
Color Grading and DIT
These two are the most recent forums to hit the web in this roundup and mark a definite shift towards the accessibility of high end color grading tools for the masses, as well as the necessity of DIT's for wrangling all this file based data.
Lift Gamma Gain is a forum dedicated to all things color grading from basic techniques, to business approaches and detailed software specific queries. Right now there are some interesting discussions about: What to do during slow times, How to go about creating specific looks, How to calibrate a Eizo ColorEdge monitor and what the mathematically correct way to create a 3-strip look might be, to name but a few.
Over on the DIT side of things DIT User is a brand new forum (currently in Open Beta) that will undoubtably gather momentum in the coming months. It has been set up by New York based DIT and colorist Samuel Gursky and while there's only a small number of posts on the site at the moment, if you're a working DIT anywhere on the planet, this burgeoning community will surely benefit from your shared expertise. If you sign up now you can join in some detailed discussions on things like how best to provide on set color correction services, for example.
DoP's and Their Cameras
If you're a working or aspiring cameraman then you need to sign up to Roger Deakin's forum. Scrolling through the responses from other community members its always interesting to see what someone who has been nominated for 10 Oscars thinks about things. In a recent discussion about how to film a dinner scene someone who describes themselves as: "having 'no experience as a cinematographer (and can't afford a 'real' one)" gets this free sage advice from Roger himself.
You could buy a couple of single tube fixtures from 'Home Depot' to use as light sources for your close shots. The existing light might be a little harsh on the eyes. Buy some tracing paper to soften the light and make sure you buy the same fluorescent tubes that exist on your location so that you don't have any colour matching problem. My gaffer carries a few Kinos but he will also buy regular tube fixtures from the hardware store so that there won't be a colour shift between what we add and what exists on a location. Kinos won't match the tubes that exist at your location unless you add gel to the Kino or change all the tubes on the location.
Where else can you get that kind of access and willingness to share with absolute beginners? Pretty incredible.
For those working with RED camera's then RED User is the place to visit. There's a hugely active and helpful community (over 14,000 people online as I write this) to take you through everything from building your first camera to coming to grips with RED CineX Pro or where to download the lastest firmware updates and a whole lot more.
Blackmagic Design has its own official forum covering their entire product range from Live Production, Cinematography and Post Production. The forum is still quite young but catching up fast as more and more people download Resolve Lite or pick up a BMDCC.
With Blackmagic Design's new Pocket Cinema Camera announced at NAB I'm sure the 8000+ membership will quickly expand. As someone who is learning Resolve the forum always has plenty of quality information.
There are so many great forums online.  If you feel something major has been missed then hit the comment section below and help share that community with the rest of us!