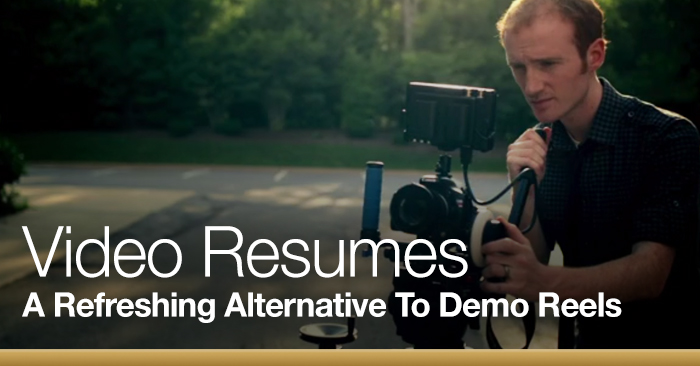 Video Resumes – A Refreshing Alternative to Demo Reels
Want to stand out from the crowd? A video resume will not only show off your work and capabilities but also will give the viewer insight into your personality. Check out our favorites and a few considerations for making your own.
If you search Vimeo for 'demo reel' you'll get 83,000 results (February 2014). What are you doing to set yourself apart?
Applying for a job in a video or design field? Submitting a high quality demo reel is not only suggested, it's often required. And while well crafted demo reels can show off your previous projects and work experience they do little to inform the viewer about the person behind the footage.
Employers want to hire someone they connect with. This is where a 'video resume' can really set you apart from the pack.
Similar to a demo reel or showreel, a video resume showcases your technical abilities but also gives the viewer insight into who you are as a person – how you present yourself, what your interests are and a dose of your personality.
We've broken out the following examples into types of effective video resumes – the "About Me" and the "Hire Me". Use them as creative inspiration for crafting your own.
About Me Video Resumes
Graphic designer Wenzhu Wei effectively uses his graphic design skills to showcase his work experience and personal history:
In "A Dream Job Would Be Nice" Mark Leruste uses an interview format combined with press clippings, photos and humorous b-roll to inform viewers of his work history and favorite things. The video concludes on a more serious tone, where Mark explains why he is an ideal candidate for a professional position. The high production value of the video shows his ability to produce quality work.
Motion graphics artist Antonin Waterkeyn shows he's got great design skills and injects a bit of edgy humor to showcase his personality:
A video resume may seem a bit out of the ordinary for a software developer, but the uniqueness of that approach is what Nick Belling is going for with this video. Nick shares his academic accomplishments, professional projects and uses YouTube overlays to give viewers quick links to his written resume and portfolio – a nice touch.
Juan Salvo is a leader in the color grading industry and his video reel surely speaks to that. Although the reel is more focused on Juan's work (and less about who he is as a person) we've included it in the list because of it's unique approach. The video opens with Juan's voiceover and shots of him at work. Showing the process behind the work is one way to really make your own reel stand out. This example is really well executed.
Hire Me Video Resume
Looking to be hired for a specific position? The following video resumes are aimed at specific employer. The amount of time and effort that goes into creating a targeted Hire Me video may well pay off if you're applying for your dream position.
When Premiumbeat blogger Aaron Williams applied for a video production position with a church they asked him to make a :60 second video telling them why he should be hired. The result successfully showcases Aaron's proficiency at shooting and editing. You'll see him video editing with Final Cut Pro, the same software he was being hired to use – good move, Aaron! Amazingly, it took him only 6 hours to create it.
Jonas Mosesson had his heart set on working for award winning design firm, Buck. He made the following video to give the folks at Buck insight into his talent and personality. Unfortunately, he reports that the job wasn't offered…but with his skills and creative approach we're sure they'll be other great things coming his way in the future.
Want to work for Vimeo? The logical approach then would be to make a video. That's exactly what Stephen Niebauer did…and it worked.
The most elaborate of the videos in this list, this Hire Me video by Matthew Epstein is a plea to the Google product team for a position with the company. Matthew's approach showcases his humor and is presented with top notch production quality. Additionally, Matthew created a website GooglePleaseHire.me to tie-in to his job seeking efforts. As a result of this work, Matthew is now employed by Google.
If you want to work for Jon Stewart, your application better be funny. That's definitely the approach Croatian comedian Ivan Saric took when creating this video resume for a correspondent position with The Daily Show.
Video Resume: What NOT To Do
If you're going to give your own video resume a shot, see what not to do in this video spoof created by Canadian job search website Workopolis.com. This one had us cracking up.
One final note on video resumes…
Each of the video resume creators above have a personal website. No matter the type of position you are applying for, having a strong online presence is imperative in today's job search. Be sure to share your website in your video resume, where employers can go to find out even more info about you and make contact. After all, isn't that what it's all about?