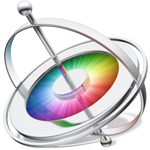 Video Tutorial: Color Correction in Apple Motion
Although Apple's Motion app is best known for motion graphics and special effects you can also effectively use it for color correction!
In the following video tutorial, Steve Martin and Mark Spencer from MacBreak Studio share a few tips for creating custom color looks and color correction in Motion. You'll get a run-down of some of the most useful color filters in the app, as well as few things to watch out for.
Topics covered include gradient presets, color remapping, previewing color effects in icon view and layer stacking. Mark concludes by showing you how to pull a solid color key in Motion to create an alpha channel.
MacBreak Studio is a great resource for Apple post production info (Motion and Final Cut Pro X).  You can subscribe to the weekly videocast here.