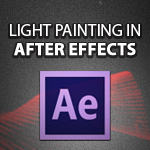 Video Tutorial: Light Painting in After Effects and Photoshop
Learn how to create a stylish light painting effect using only After Effects, Photoshop and a camera – no third party plugins necessary!
In a previous post, we highlighted the visually stunning Light Pollution video by digital video studio Super Frog Saves Tokyo (SFST).  What was unique about this video is that all of the light painting effects were created without the use of any specialized third party plugins – pretty impressive.
Now, the team behind the video is giving us a peek into how they created the effects.  In the video tutorial below, Joe from SFST shows how one of the light painting effects was created.  Joe has also shared the raw footage so you can walk through the tutorial step-by-step without having to acquire your own shots (see the Vimeo page to download).
The light painting technique uses a slew of After Effects and Photoshop tools including adjustment layers, basic color grading, masking, tracking and batch automation.  None of these steps is too complicated, but familiarization in these apps is essential – this isn't for the Adobe newbie.
Additionally, the SequenceLayers plugin from AEScripts is used to automate the timing of the effect (this can be done manually without a script but would be very time consuming).
Light painting in After Effects is a great visual effect that can add punch to your video projects.  Thanks for sharing, SFST!
See the Vimeo page for more info. Best viewed full screen: