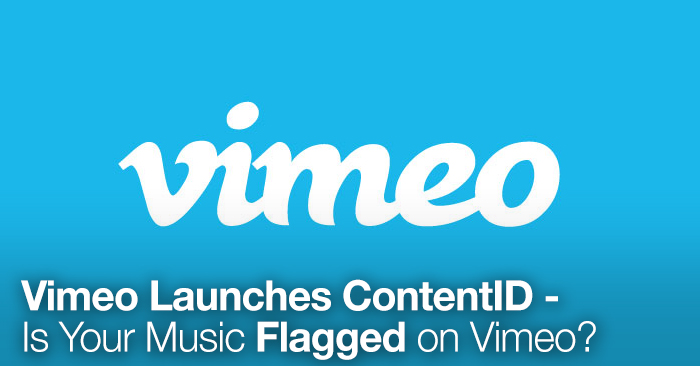 Vimeo Launches ContentID – Is Your Music Flagged on Vimeo?
Today Vimeo announced a ContentID system called Copyright Match, to tackle the issue of music being used illegally on the video network. Is your music being flagged on Vimeo? Here's what you need to know.
Videos using copyrighted music will soon be flagged on Vimeo. When flagged, Vimeo can disable or block the video in violation. YouTube has had a similar content ID system in place for years, but until today there were no repercussions on Vimeo for the usage of unlicensed copyrighted work.
Vimeo's content ID system comes from Audible Magic, a company that has developed an automatic content recognition system for audio. The service will flag any copyrighted music tracks (as well as television shows and films) that have been entered into their system.
Unfortunately, when uploading media to Vimeo, there is no way for them to know if you've properly licensed all media in your video. Because of this, all videos featuring copyrighted work will be flagged and it will be up to the user to provide proof of license to avoid being blocked.
PremiumBeat's royalty free music library has not and will not be entered into the Audible Match content ID system, so our tracks can be used on Vimeo without issue.
Is Your Music Flagged on Vimeo?
It's worth noting that the content ID system will apply to private videos on Vimeo as well, which may come as a blow to video editors and producers that use commercial tracks as placeholders in their projects for client review. Although Vimeo has updated their terms on 'fair use' there has been a slew of questions today regarding how they will deal with fair use issues. Can you use copyrighted music in your demo reel? What about educational videos? There are so many videos on the site that dissect popular films, are visual effects montages, etc. How will these videos be affected?
We're in the music business, so we recognize the need for music to be properly licensed. It's good to see Vimeo addressing the issue. However, a lot of questions now remain about how Vimeo's content ID will effect the future of the service and it's dedicated user base. We'll keep you updated.
For more info, see this detailed post on NoFilmSchool and Vimeo's own blog post announcing the update.