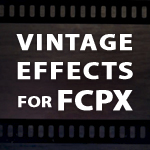 Create Unique Film Looks in Final Cut Pro X with mVintage
Quickly give your Final Cut Pro X projects a vintage look with the plug-in pack from MotionVFX!
The effects gurus over at MotionVFX knock it out of the park with their newest plug-in release for Final Cut Pro X and Apple Motion.  mVintage is a complete effects solution for giving your digital video footage a distinct vintage look.
Once you apply mVintage to your footage, you can modify the look of the retro film effects through it's user interface within Final Cut Pro X.  Choose a preset from each of the main effect parameters: film burns, scratches and over 50 different color filters.  Each of these variables is customizable by adjusting it's strength and blending mode (choose from add, screen or dodge).
Once you nail down the main look, add additional vintage effects:
Roll:  Mimics the look of a film projector, rolling your footage in
Drop:  Drops frames for a low frame-rate or stop motion effect
Shake:  Jittery film camera shake
Prism:  Offset the colors in your footage
Flicker:  Adds a film camera light flicker
ALL of the parameters are totally customizable, allowing you take the vintage look from subtle to EXTREME for a look that's all your own. Although similar plug-ins exist, this one really excels in it's processing speed and ease of use.
If you're a dedicated Final Cut Pro X or Motion user, adding this plug-in pack to your editing arsenal is a no-brainer.  With the popularity of Instagram, Hipstamatic and other retro image emulators, the vintage look is hotter than ever. The mVintage plug-in for Final Cut Pro X get it right for video projects.
Download a demo risk-free or buy mVintage for $89.