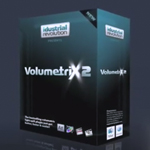 Add Light Effects to Your Videos with Volumetrix 2
idustrial revolution's popular Volumetrix light spill plugin updates to support presets in Final Cut Pro X.
Volumetrix takes the hassle out of adding interesting light effects to your video and animation projects!  Say goodbye to extensive keyframing – spicing up your text, images or video with impressive lighting is now as simple as adding a one-click preset.  Volumetrix includes a ton of lighting options, including the ability to add glows, rays, glints and highlights.
It's simple to customize each lighting effect to make it your own, by adjusting the timing and display parameters included in each preset.  Stack different lighting effects to create a one-of-a-kind look or transition.  The newest version of Volumetrix offers up full support for Final Cut Pro X, but the plug-in can also be used in:
Final Cut Pro 7
Motion 4 & 5
Final Cut Express 4
Adobe After Effects
To get Volumetrix running in your editing application, download FXFactory and find Volumetrix in the list of available plfug-ins (Volumetrix runs on the FXFactory plugin management system).  For $49 you'll get the full Volumetrix suite of light effects and the ability to run the plugin in any of the above applications.
Get more info and download the Volumetrix light spill plugin.