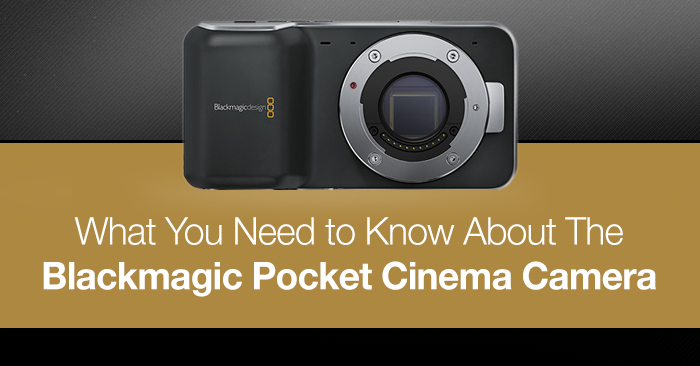 What You Need to Know About the Pocket Cinema Camera
The Blackmagic Pocket Cinema Camera makes it easier to capture great images on-the-go. Check out the features that make it stand out.
With it's RAW capabilities and sleek design the Blackmagic Pocket Cinema Camera has quickly become the go-to camera for filmmakers who are looking for a small, high quality camera at an affordable price. The BMPCC is the little-brother to the Blackmagic Cinema Camera and the Blackmagic 4K Cinema Camera but it still packs quite a punch for being a fraction of the price. Here are a few things you need to know about it:
It shoots in RAW
Unlike comparable DSLR cameras, the Blackmagic Pocket Cinema Camera natively shoots in a RAW lossless format. This is huge for color correcting. As a filmmaker, you don't have to worry about details getting lost in compression.
13 Stops of Dynamic Range
How good is 13 stops of dynamic range? Well, a Canon Mark III shoots with only 10 stops of dynamic range and the "cream-of-the-crop" Arri Alexa gets 13.5. We're not saying that a Blackmagic Pocket Cinema Camera will get you Arri quality video, but as far as dynamic range goes it can get you pretty close.
A 3.5 Inch Display
A larger display means it's much easier to monitor what you are recording. On the display you can also review clips straight from your SD card which is nice for on-set playback. The BMPCC also allows you to zoom in to get a better view of what you are recording.
A Micro Four Thirds Mount
This is an interesting advantage to DSLR lenses in that Micro Four Thirds lenses tend to be much smaller and more compact than DSLR lenses. As it stands right now, Micro Four Third lenses tend to be cheaper than comparable DSLR lenses too. There are also a lot of adapters for Micro Four Thirds mounts that can help your BMPCC take almost any lens avaliable.
We're Giving One Away for Free
Premiumbeat, in partnership with FStoppers.com, is giving away a free Blackmagic Pocket Cinema Camera along with an awesome gear pack for a limited time. To find out more information about the giveaway go over to the contest page and enter. Each user can enter once a day and you get bonus entries if your friends sign up.
Do you use a BMPCC on your productions? What do you think of it so far? Let us know in the comments below.