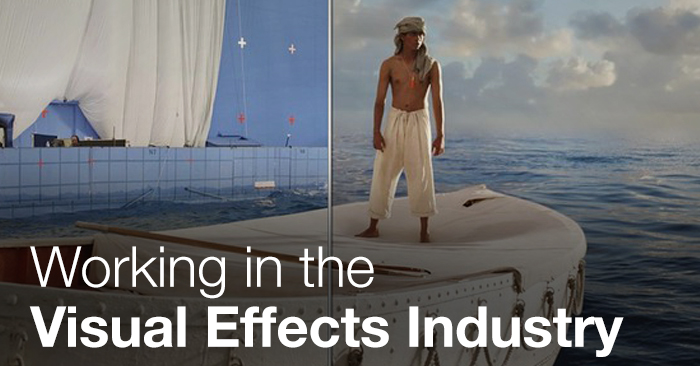 Working in the Visual Effects Industry
If you are considering a career in the visual effects industry, here are a few things to know.
If you're interested in building a career in the visual effects industry, hearing how others who have gone before you have worked their way up the ladder is a great way to pick up some tips on how to do it for yourself. Studio Daily recently posted a great interview with Industrial Light and Magic VFX Supervisor Russell Earl – whose most recent film is Captain America: Winter Soldier. It seems like having the guts to wing it, and the work ethic to pull it off, is a helpful combination.
"Because Earl had run the laser camera, the producer's assistant believed he could do digital compositing. "He said, 'Hey, you know Unix, don't you?'" Earl says. "I said I did, which I didn't. He said, 'Can you start today? At 7?' I said, 'Yeah, I can do that. I thought I could figure it out. I packed my car, went to the bookstore, bought a book on Unix, hid it in my bag, and drove up there. I had these little Post-Its. When they would ask me to do something, I would write it down on my Post-It, go back to my desk, and look in the book."
Starting a Career in Visual Effects
So what does it take to build a career in the visual effects industry, especially if you're considering going to a university to acquire the skills you need? Interestingly The Mill's co-founder and chief creative officer Pat Joseph, believes that UK higher-education in general is failing to equip students with the skills or awareness of the VFX industry to create the supply of talent, needed to match the demand.
"I think that for a long time VFX had been seen as "trying to run a hobby as a business". My concern is that the British education system still isn't really laying out visual effects as a career option and so in turn, students aren't graduating with the right skills. Demand continues to grow, but universities that do train to industry standard, such as Bournemouth University, are struggling to meet it."
Things are probably quite different in the US with dedicated creative arts universities like the University of Southern California Film School and New York Film Academy. If you want a full list of film schools the Hollywood Reporter put together a list of the '25 best film schools' last year. But what if you don't want to spend $100k getting trained? UK based Escape Studios offers intensive training courses as well as plenty of free training courses and advice to help get your career in visual effects off to a flying start.
The UK ambassadors for up-skilling people is Skillset. In this series of videos partnering with the The Mill, Double Negative and others, they offer plenty of good advice to anyone looking to build a career in VFX. Get some great tips on improving your vfx showreel, shaping your CV and what essential skills employers are looking for.
Can I change careers into Visual Effects?
What animation software do you use or recommend?
"Pixar uses its own proprietary software built and maintained in-house. In general, we look for broad artistic and technical skills, rather than the ability to run one package over another. We concentrate on finding people with breadth, depth, communication skills, and the ability to collaborate. If you have those attributes, we can teach you the specific tools."
If you check out the first video above you'll quickly gather that many people working in the VFX industry didn't originally train to do it (at least not at degree level). And if you look on the Pixar careers FAQ you'll see that they are looking for a broader range of skills and abilities than just simply "being a ______ ninja." This should be an encouragement to anyone with a serious passion to apply their knowledge of particle physics, computer coding, lighting, fashion etc to the visual effects industry – that's it is not just about being a geek, but being an artist first and foremost.
One person who switched careers to get started in the visual effects industry is Chris Chadwick who moved from being a graphic designer, took a six week course at Escape Studios in Autodesk Maya and then landed a job at Prime Focus doing match move work for the film Total Recall. Starting as a match mover is the first step on the ladder, but at least you are on the ladder. Double Negative's 3D Artist Manager Dara McGarry shares how artists often develop in their careers at Double Negative. If you head over to this page, you'll also find a ton of useful information about building a career in VFX too.
"The most common entry point to begin a career in 3D is to start in the matchmove department, where they will be responsible for camera, object and body tracking. A very good understanding of Maya is helpful as well as knowing tracking software, even though we use some proprietary tools. Most people spend 12-18 months in tracking and will have the opportunity to pick up TD tasks along the way. This could include anything from running a pre-existing lighting set up on a new shot to creating small props or buildings. This experience gives our junior artists a complete understanding of the pipeline and the tools we use here at DNeg."
It's Not Just About Digital Skills
Stan Winston's School of Character Arts is a great place to start if you're interested in a career in the physical side of the visual effects industry. Their YouTube channel has over 200 videos on it, and you can purchase tutorials and webinars from top visual effects professionals on the techniques they use to create everything from the initial sculptures to final painted models.
Legacy Effects (with founders from Stan Winston Studios) share how new technologies like 3D printing are transforming their practical visual effects workflow. It's just another example of how understanding new technologies and material's sciences can land you a job in the visual effects industry.
Life After Pi – The Economics of VFX
Lastly, it would feel a little remiss to be talking about working in the visual effects industry without highlighting some of the financial and economic realities that go with the industry. Life After Pi, the half hour documentary, examining the demise of  Rhythm & Hues, the VFX company that created some of the miraculous visual delights of Life of Pi – and won an Oscar for it, while simultaneously going bankrupt. It is an eye-opening look into the current state of much of the big budget feature film visual effects industry.
Previous Posts on Visual Effects
If all of this isn't enough to satisfy your hunger for information on the world of visual effects then check out these two previous posts right here on Premiumbeat. If you've ever wondered what a visual effects editor does, or what it's like to be an assistant in the visual effects department the this previous post will illuminate both those worlds. You might also want to check out this previous post showcasing a 2 hour masterclass with visual effects legend Douglas Trumbull.