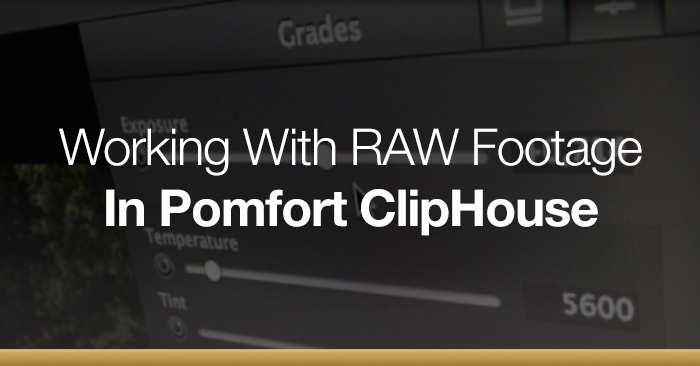 Working with RAW Footage in Pomfort ClipHouse
If you're a RAW shooter looking for a simple way to get your footage ready to edit, Pomfort ClipHouse might be the answer.
The benefit of shooting in the RAW format is that you get a ton of extra latitude in your images and therefore greater flexibility in controlling how they look in post. The problem comes in handling all that data and turning the footage into something editable.
If you are shooting on something like the Blackmagic Cinema Camera, a Magic Lantern hacked DSLR or even a shiny new Digital Bolex, you'll be familiar with the problem and the process. Pomfort, the makers of SilverStack – a professional level DIT utility, and Live Grade an on-set colour management tool, have mashed together the best of both of these apps into an affordable and user friendly solution to processing your RAW footage called ClipHouse.
You can download a free 14 day trial of ClipHouse to give it a whirl for yourself. If you don't have any RAW footage to hand to test it out, you can also grab some CinemaDNG RAW files from the Blackmagic Design site. Direct download links: Clip One | Clip Two | Clip Three.
In summary ClipHouse is a very straight-forward way to back up RAW your footage with checksum verification, organize and apply a look to your dailies and transcode them to H.264 and all flavors of ProRes ready for editing. The up-side is that if you're looking to get that job done quickly and easily this could well be the best one-stop shop app for you.
The down-side in paying out for this particular app is that you're limited to only ingesting RAW formats. But hey, it does that one thing really well.
Creating Color Corrected Dailies with ClipHouse
One of the main benefits of ClipHouse is that you can color correct your footage very quickly and easily inside the color room. If you're on set, this will allow you to check your image for focus and exposure and to see if you've got what you need.
You can also save preset grades to apply to all of your footage to create your graded dailies. A nice feature of the color room is the ability to adjust the look of the footage with both color wheels and sliders, giving you a bit of flexibility to work in the way you prefer. One handy feature that is currently missing from the app is the ability to toggle the grade on and off with a click, so that you can refresh your eyes/memory on how far you've pushed it.
That said, the ability to import and export preset grades (along with the handful of preset grades that ClipHouse ships with) is very useful, especially if you're handling dailies from one location scattered across multiple shoot days. The interface is very easy to use and gives you precise control over everything from exposure, color temperature and contrast to RGB sliders for your shadows and highlights.
Exporting your dailies couldn't be easier with simple presets and customizable settings, which allows you to set multiple jobs going at once. You also get a handy estimate of the time remaining in the export.
The simplicity of ClipHouse is one of it's major strengths. It doesn't feel like it has too many unnecessary bells and whistles.
What other apps do the same thing?
If you're looking for a free way to achieve the same results – back up your footage, grade your shots and create dailies – as far as I know, there isn't a one-size-fits-all solution out there.
You could split that process across a few other paid apps and get the same results while working with many more shooting formats. For example, you could use ShotPut Pro to backup your data, and then transcode it with a look for free in DaVinci Resolve Lite. But given that ShotPut Pro is $99 and ClipHouse is $129 for a permanent license and offers more functionality, you might as well spend the extra $30 bucks.
Alternatively, if you're a fan of their software, you could take a look at Red Giant Software's Bullet Proof, which offers the same sort of workflow functionality (Copy > Manage > Color > Export) but currently doesn't support RAW. However it's more expensive at $199. So you'll still have to wait for them to add in greater format support.