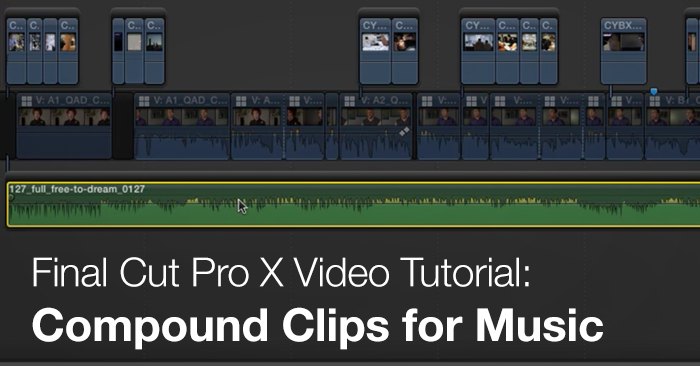 Final Cut Pro X Video Tutorial: Compound Clips for Music
Working with music in FCPX? In this exclusive Final Cut Pro X video tutorial we share a trick for quickly replacing temp tracks with final versions.
Often editors will cut up a single piece of temp music into different parts to create their own custom edit of the track. When using production music (like tracks from Premiumbeat.com) you can use temp (watermarked) versions of the tracks in your project to try out before licensing a high resolution version. So, if you're working in Final Cut Pro X you may be wondering what the easiest way to swap these temp track for a final version – so that it replaces every instance of the track in your timeline.
In the following video tutorial we show you how using compound clips in FCPX is an easy way to swap out any track:
When cutting a piece of music into your FCPX timeline there is TWO things you will want to do first:
Place the cut of music in a secondary storyline
(using the shortcut Command + G)
Make the cut of music a compound clip
(using the shortcut Option + G)
Then, when you've decided to use the track for your project, swap it out in FCPX with the temp by opening up the compound clip, overlaying the full/final version and mute the temp version. It's as simple as that. The compound clip is the key to swapping out the temp music for the full resolution track.
Got more Final Cut Pro X tips to share or questions about this tutorial? Let us know in the comments below.