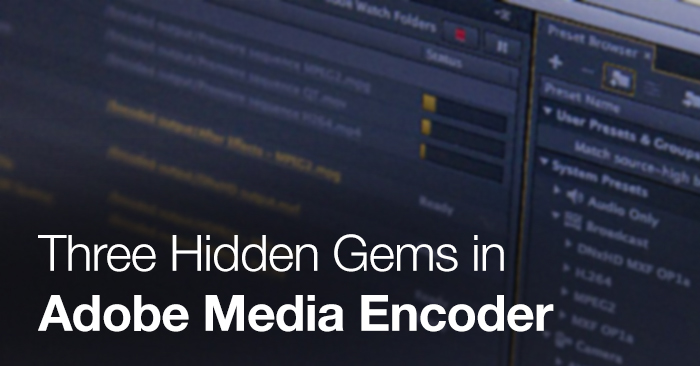 Three Hidden Gems in Adobe Media Encoder
Adobe Media Encoder is an incredibly powerful application, and has only become more useful with Creative Cloud's frequent updates. Here are 3 settings you probably don't know about in Adobe Media Encoder that may save you time and hassle!
I love Adobe Media Encoder. Especially since the CC version came out, Adobe has done a fantastic job of adding new and powerful features, but sadly, a lot of them go unnoticed by most editors. In this post, I want to share with you my 3 favorite hidden gems in Adobe Media Encoder.
Easy BITC in Media Encoder
If you don't know what BITC is, it's a video where the timecode has been overlayed onto the video (literally: Burn In TimeCode). At my work, we make BITCs pretty regularly. We used to have to do it in our editing program by putting an effect on either the video clips, or on an adjustment layer above.
These days, we just pass the media or the sequence through Adobe Media Encoder and use this great setting in one of our presets. In the presets settings, there's an Effects tab. In previous versions, all that was here was a gaussian blur, which – let's face it – was mostly useless. In a recent version, Adobe added several new effects that Adobe Media Encoder can apply during compression, and one of them is a timecode overlay.
Here's an example of this effect applied to a QuickTime movie, but this also works when exporting from Premiere using a preset, or when sending a video from Premiere or After Effects to the AME queue.
Easy Watermarking in Media Encoder
Another great utility under the Effects tab is the Image Overlay. This effect makes it super easy to add a visual watermark to your videos. Just load in an image (one with an alpha channel or transparency is probably best), tweak size, position, and opacity settings, and a watermark is applied to any video using that preset!
Easy FTP Upload in Media Encoder
I upload proofs that my clients need to view and revise/approve to my website, and having to open my FTP program isn't a hard step, but it is one that can be bypassed using the FTP tab in Adobe Media Encoder. Just give it you server and login info for your FTP space and Adobe Media Encoder can automatically upload your video for you without any extra step. All those small increments of time you save add up!
I hope you've discovered at least one new feature in Adobe Media Encoder that will make your life just a little easier! If you have others to share let us know in the comments below!