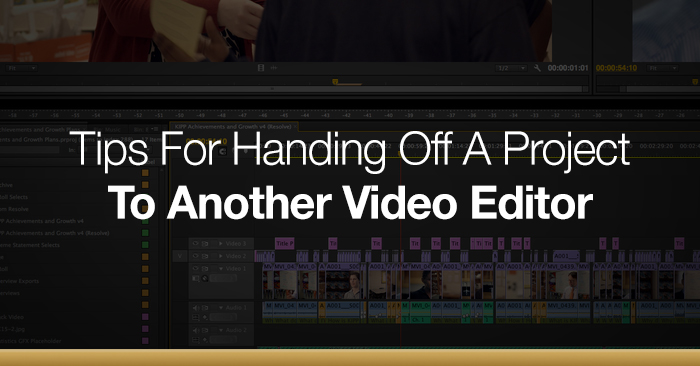 Tips for Handing Off a Project to Another Video Editor
When working in a collaborative environment, following these tips will keep fellow editors and other post-production specialists from cursing your name when they have to work on your project!
As editors, we often pass projects off to other post-production specialists and even other editors. At my work, for example, I might start a project because I have time, but a higher priority project that fits my skill set better might come along, so I'l pass the project I was working on to another editor at my company. We also often have one person do the rough edit, and another person take the project to polish it up.
Here are a few tips for preparing your project so that the transition from one editor to the next is as smooth as possible.
1. Keep Your Project Organized
I've talked before about the need to keep a project organized, and even passed along some suggestions on how to do so (be sure to check out this post on a bin organization structure for your video editing projects).
So, here's the big question: If you had to hand a project off to another editor mid-project (family emergency, vacation, sick day, called in on a larger project, etc.), could they immediately find all of the pieces they need without having to scour and search every bin and file? Do you put all of the footage in a logical place and make it easy to find B-Roll, identify the most current version of the edit, and determine what graphics have been created and which ones still need designing?
If the answer is "no" you're wasting their time by making things harder than it should be. Good project organization significantly reduces the amount of time spent looking for things (or spent using the wrong things). From a self-benefit perspective, it also keeps them from having to track you down and ask you a bunch of questions, so you save time as well. Keeping things neat and tidy will keep other editors from hating having to pick up a project you started.
2. Label Your Sequences With Intent
I've been asked before to go back and make small revisions to projects several months old that I had never touched before. On several of those, the sequences were named things like:
Rough v1
Rough_v1 Copy
Rough_v1 Copy Copy
Final_v2
Untitled Sequence Copy 02 v3
Edit v2 Final
Rough Edit v2 Final Revised
You get the picture. I actually started working on the wrong sequence because of this, which wasted time there, and even more time after I figured that out while I was trying to find the correct one! If you saw all of these in a project, would you have any clue where to start?
Save the next editor a huge headache by having a consistent naming convention for your sequences, and stick to it. Here's how I version:
Title the sequence with a name that means something instead of just "edit" or "rough", for example: "2014 New Products Showcase".
Numbers increment with client revisions
Letters are for internal revisions
Example: The rough edit would be "2014 New Products Showcase v1". If I went through two more refinements that I wanted to keep separate before we sent it to the client, they would be called "2014 New Products Showcase v1a" and "2014 New Products Showcase v1b". When the client sent back revisions and feedback, the next version would be called "2014 New Products Showcase v2". Further internal revisions would be "2014 New Products Showcase v2a", etc.
Naming is a huge help in identifying the most current version. Want to make it even easier for the next editor and not only keep them from cursing you, but have them sing your praises? Put all old versions in an "Archive" bin, and have only the most current version visible by default. They'll love you, I promise.
3. Keep Your Sequences Clean
I don't think I'll ever understand why some editor's timelines seem to use tracks at random and have over 15 of them, but if you have to edit that way, go for it. Just do us other editors a favor: before you walk away from the project make a new version (a "v2a" or whatever, if you follow my suggestions above) and collapse the tracks to something that makes sense. Having one track is great. Want to keep b-roll and your storyline separate? Great. Use two tracks. Not ten. If you use multiple tracks, be consistent with what you put on them, so an editor picking up the project quickly see the pattern and identify what's where. My usual pattern when I use multiple tracks is:
V5: Animated video transitions
V4: Titles and graphics
V3: Adjustment Layers for color if needed.
V2: B-Roll
V1: Primary Storyline
If I can combine any of those in a way that makes sense and without conflict (ex: putting titles, graphics, and transitions on one track), then I do. If you were handed a project like that, I don't think it'd take very long for you to find what you needed.
Also, if prepping a project for another editor to take over, delete the extra junk at the end of the sequence. Sometimes we miss it and the project ends up exporting with 15 extra minutes of black. Most of the time it's just annoying because it throws off our "scale timeline to window" shortcut (Shift+Z or whatever you use).
If you use that as scratch for your selects, that's great, but do one of two things before passing it off: Either version the sequence so you have it in a previous version so it's out of the next guy's way, or cut and paste it into a selects or scratch sequence. The latter is a usually a better option, because the sequence would be clearly labeled if the next editor wants to find good clips to pull from or see some of your other ideas.
---
One last little side note for those of you that end up taking over a project another editor started for you: If he/she took the time to keep things neat for you, you should definitely respect that effort by keeping things organized in the way that editor prefers.
I hope this has been helpful, and hopefully it makes your working relationship with other editors a little less stressed. Let me know if you guys think of any other suggestions (share in the comments below)!