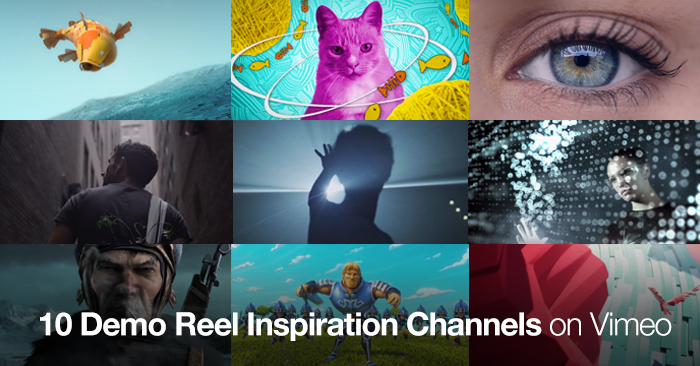 10 Demo Reel Inspiration Channels on Vimeo
Video editors and motion designers – follow these demo reel channels to stay inspired.
An incredible demo reel has the ability to inspire and really get your creative juices following. Unfortunately, for every amazing reel there's a handful of 'not-so-good' ones. We've rounded up 10 channels on Vimeo dedicated to bring you the cream of the crop in motion design, cinematography and visual effects showreels. We've included examples of demo reels from each group and channel below. 
If you know of any other great sites to find showreel inspiration let us know in the comments below!
We might be a little biased, but one of the best places you can go to get demo reel inspiration is our curated Best Showreels and Demo Reels page on Vimeo. Moderated by us (PremiumBeat), the Best Showreels and Demo Reels channel features motion graphics, filmmaking, cinematography, color correction, editing, and much more.
---
This relatively new demo reel channel was started by Peter Quinn, the author behind the Shit Showreels Say video that went viral this year. The channel mainly focuses on motion graphics and VFX showreels. Peter also puts up new showreels on Facebook daily on the Shit Showreels Say Facebook page.
---
The Demo Reels Channel is a great place to find showreels from a wide range of video specialities. From motion graphics to documentary filmmaking, they cover it all. They include reels from independent creators, all the way up to epic reels from major production companies and studios.
---
As the name implies, VFX Rider focuses on demo reels with great VFX and animation work. We love that they include demo reels featuring various aspects of the VFX pipeline, not just the finished product.
---
If you're into 3D animation, modeling, or compositing than you will love the 3D makers group. The group features work from some of the best 3D artists in the world.
---

Must See Demo Reels is a group moderated by Versa. Here you'll find VFX and motion graphic work from all around the world. The reels featured here are incredibly artistic in nature and display a great blend of both personal and client work. This is also a great place to find some of the best personal branding around.
---
For all the DP's out there the Cinematography Reel group showcases reels with a focus on video production. Here you'll find amazing examples of cinematography from commercial to avant-garde. They don't only include demo reels that use ARRI or RED cameras. Instead, you'll find an intelligently moderated group that focuses more on composition than camera.
---
While it may seem silly to look to video games to get inspiration for your next big project, the Game Animation Demo Reels group features work that should inspire game designers and filmmakers alike. This is a great place to study animation techniques, texturing, and VFX work.
---
The demo reels in this group are in fact all awesome, and all animation. Only the best of the best work samples here from the world's best motion designers and animators.
---
If you're a DP by trade, or simply appreciate great cinematography, then consider joining the Director of Photography group. This Vimeo group features work from some of the best DPs in the world, as well as amazing color grading and color correction examples.
If you're thinking about putting together your own demo reel check out our post on the "Top 20 Tips for Creating A Successful Demo Reel". There you'll find some great tips for the next time you are looking to stand out. Once you've created your demo reel be sure to share it and submit it to your favorite demo reel groups and channels to increase your visibility!
Know of any other great places to find demo reel inspiration? Share in the comments below.