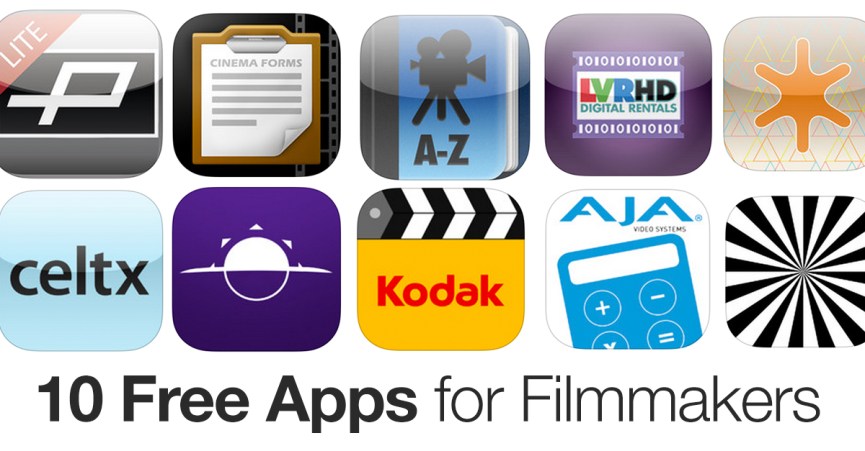 10 Free Apps for Filmmakers
These 10 free apps make filmmaking easier.
If you're out on-set or on-the-go, these filmmaking related apps that can be quickly accessed on your phone or mobile device. From camera manuals and data calculators to focus charts and production forms, we've unearthed some of the best filmmaking related titles from the App Store. The best part – they won't cost you a thing.
All of the apps below are available for Apple devices (iPhone, iPad), but some may be available for Android devices as well. 
Do you use any of these apps? Got others to recommend? Let us know in the comments below!
Cinema forms is designed to help you go paperless on-set. The app has a number of commonly used filmmaking forms that can be saved on the device, so you can focus on the film, not keeping up with papers. This app is only available for iPad, but if you are looking for a way to have all your forms in one place, it's a great option. There is an additional "Pro" version for $30 that gives you access to all the forms beyond the initial 13 you are given in the free version.
Gobo is a digital directory with commonly used filmmaking terms. It is meant to be a resource for filmmakers who may be new to the film industry. From video formats to color temperature charts you'll find lots of good information here.
LVRUSA is designed as a pocket manual for some commonly used cameras in the industry. Here you'll find various useful information like how long you can record on a certain card and the crop factor for an APS-C sensor. LVRUSA also has dozens of camera manuals on file making it incredibly easy to reference. Our friends over at the BlackandBlue.com also have a set of camera pocket guides for nearly every professional camera – definitely worth checking out.
The AJA Data Calculator does exactly what you might imagine a data calculator should do, it calculates how large your file sizes will be for various shooting scenarios. In the app users can select a variety of codecs and file formats for both video and audio. You don't have to be shooting on an AJA camera for this app to be useful to you.
The Kodak Cinema Tools app is designed as a resource for filmmakers and photographers alike. In the app users have access to a sunrise/sunset calculator, depth of field calculator, & film run time calculator, along with various other useful apps. This app may have been designed for those shooting on actual film, but it is definitely useful for digital shooters as well.
Unfortunately Panascout doesn't turn your iPhone into a Panavision camera, but it is a location scouting app that allows users to take pictures of potential locations with GPS data attached. The app also allows users to account for varying aspect ratios and crop factors so you can get a good idea as to what the framing will be once your get your camera there. Panavision Lite also comes equipped with a sunrise/sunset indicator
Magic Hour is less about pre-production and more about incorporating filmmaking/photography into you everyday life. As you probably already know magic hour is the special time of day where lighting and colors are perfect for capturing photos and video. This app gives you a push notification every day when magic hour begins.
Celtex Shots is an app designed to assist users in creating storyboards and on-set blocking. Using the available icons, users can drag and drop lights, subjects and props into the scene, making it easy to share blocking ideas with crew members. The app also allows users to share storyboards with other crew members by sending stills via email in a variety of formats. Users can also save stills to their photo roll for easy sharing and access on-set.
SMAPP has a useful lens selection tool that helps determine what lenses you'll need for certain shooting situations. It also has a packing tool that provides a list of recommended equipment to pack for different scenarios. One of the best features is the stabilization recommendation tool – which will tell you if you should use a monopod, tripod, slider, glidecam, etc, based on the type of shooting you're doing. These features, plus built-in tutorials, make this a must-have filmmaking app.
Trying to check the focus of your lens? With the free Focus Chart app you can easily test and focus your lens. There aren't a lot of bells-and-whistles here, but if you do a lot of lens calibration you might want check out this free app.