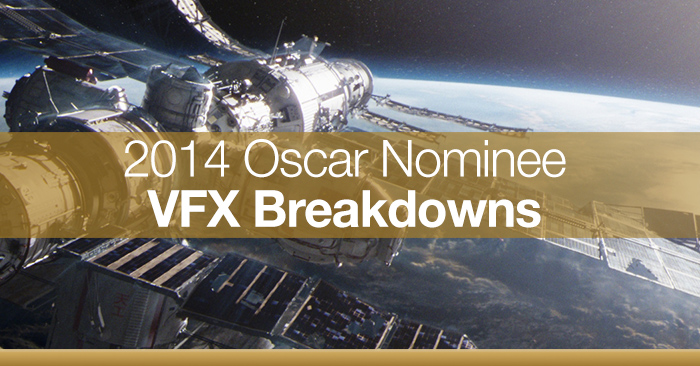 2014 Oscar Nominees VFX Breakdowns
Go behind the scenes in these VFX breakdowns from all 5 Oscar nominated films.
The 2014 Oscar nominees have been announced and this year proved to be one of the most competitive years in recent memory. As always, great acting and cinematography takes center stage, but 2014 was also a great year for amazing visual effects. Innovations in software and audience demands for more realistic effects pushed Hollywood to create arguably the best visuals in history. So who really deserves to get the award for best VFX? In the following article we've compiled breakdowns from every VFX Oscar nominated film.
Gravity
Gravity's visual effects were primarily created by the effects house, Framestore under the supervision of Tim Weber. The film uses 3D compositing in almost every shot. Framestore stated that to render Gravity on one computer you would have to start rendering from before the dawn of Egyptian civilization – whoa . Over 400 people helped create the VFX for Gravity.
The Hobbit: The Desolation of Smaug
The Desolation of Smaug has a very similar look and feel to The Unexpected Journey but as VFX Supervisor Eric Saindon states, "[the Desolation of Smaug] brought new and unexpected challenges". The VFX team played an active role on set and tried to create a visual representation of what the finished product would look like by the next production day.
Iron Man 3
Scanline VFX played a primary role in creating the visual effects for Iron Man 3. Scanline also received some acclaim in 2013 for their work VFX on The Wolf of Wall Street.
The Lone Ranger
Led by VFX supervisor Gary Brozenich, the Lone Ranger featured more than 550 shots with visual effects. The team used photographs from Carlsbad Caverns in New Mexico to add texture to their environments.
Star Trek Into Darkness
Star Trek's VFX's were created by ILM who had the task of adding in effects to over 1600 shots. The particle simulation was extensive and proved to be a challenge.
What film deserves to get the oscar for Best Visual Effects? Is there one missing from this list? Share in the comments below.