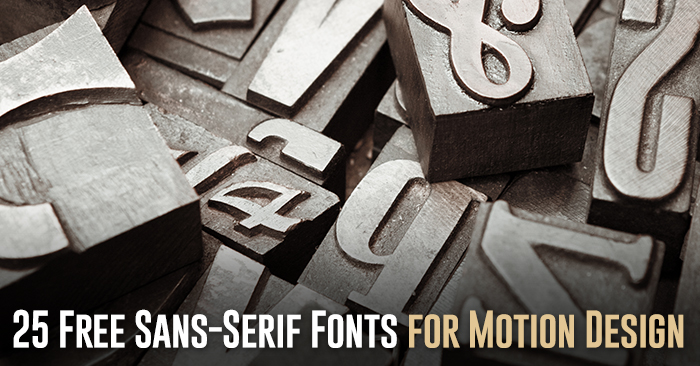 25 Free Sans-Serif Fonts for Motion Design
These 25 typefaces for motion design are much cooler than Helvetica and all 100% free.
If you're anything like me, one of the most frustrating parts of motion graphic design can be finding the right fonts to use in your projects. Because motion design is so different from still graphic design, many fonts don't work well. This makes finding a useful typeface pretty challenging, especially in an overwhelmingly large library like daFont.
To help with this problem, we consulted motion design experts and scoured the Internet in search of 25 of the best sans-serif fonts to use in motion graphic design. In the comments below, let us know if there are any additional typefaces that should be added to the list!
Quick Note: While all of these typefaces are 100% free for download, different typefaces have different licensing agreements. Please reference the license for each font to confirm any possible usage restrictions.
Start building your sans-serif font library! Here's the Helvetica-free list:
1. Kelson Sans
Kelson Sans is a remake of the original Kelson type family. The block-style ascenders and descenders add a level of minimalism to the rounded design.
Key Features: Consistent weight, minimal design, complete typeface
Artist: Bruno Mello
2. Norwester
Norwester is a geometric sans-serif typeface that draws its inspiration from classic Americana design. Its thick weight and clean edges make it easily legible for viewers.
Key Features: Full typeface, Americana design, thick weight
Artist: Jamie Wilson
3. SciFly
SciFly is a full typeface that has an inviting yet etherial design. Large open space in the letters make it to read.
Key Features: Simple shapes, sci-fi undertones, wide counters
Artist: Tommy Haaparanta
4. Vincent
Vincent is a free font that was impressively created in 24 hours. Slanted edges and block design give homage to classic collegiate design.
Key Features: Collegiate design, defined edges, extended x-height
Artist: Ben Suarez
5. Dense
Dense is an industry standard font that blends vintage and modern design. Dense comes in 3 different weights; all of which are extremely easy to read.
Key Features: Geometric designs, sloped descenders, modern feel
Artist: Charles Daoud
6. Lovelo
Lovelo is an bold typeface with an art deco style. The heavy weighted typeface also features a couple lined based iterations for added design elements.
Key Features: Art Deco style, 2 line versions, geometic design
Artist: Renzler Design
7. Fairview
Fairview is a condensed industrial sans-serif with both caps and small caps variations. Like Norwester, Fairview has classic Americana undertones that have notably square counters.
Key Features: Industrial design, small caps, square counters
Artist: Riley Cran
8. Langdon
An uppercase-only typeface with a simulated drop shadow version. Langdon offers a very predictable but useful design.
Key Features: Uppercase only, drop shadow version, consistent weight
Artist: Steven Bonner
9. Nexa
Nexa is an extremely bold, eye-catching typeface that is perfect for all things epic! Though Font Fabric features Nexa as a minimal font that is ideal for magazines, Nexa's simple shapes make it easily maskable in After Effects.
Key Features: Symmetrical letters, consistent weight,
Artist: Font Fabric
10. Archive
Archieve is a playful, contemporary font that features rounded edges making it a little less "serious" than most sans-serif typefaces.
Key Features: Rounded corners, circular stems
Artist: Slava Kirilenko
11. Rambla Alt
Rambla Alt is an alternative version of the classic Rambla font. It is notably distinct for it's rounded counters and high heights.
Key Features: Large counters, high x-height
Artist: Martin Sommaruga
12. Bariol
The artists who created Bariol says it is the perfect blend of formal and laid back. Bariol's thin weighted fonts feature more formal edges, while heavier weighted fonts have a more playful tone.
Key Features: Font variety, curved edges, formal tone
Artist: Atipo
13. Moderne Sans
Moderne Sans is a 1920's inspired font that features both upper and lower case characters. Hints of art deco are mixed with modern greek letters.
Key Features: Sharp edges, wide curves & counters
Artist: Marius Kempken
14. Biko
Biko is a typeface designed to blend modern fonts with african design. The font features wide counters and higher-than-usual x-heights.
Key Features: Tall x-height, upper & lower case
Artist:  Marco Ugolini
15. Fabrica
Fabrica was designed to be the most legible font in the world. Simple shapes and modern design give Fabrica a recognizable yet distinct feeling.
Key Features: Thin design, basic shapes
Artist: Alvin Kwan
16. Nevis
Nevis is a typeface that tries to blend bold design with friendly curves. Its geometric shapes make it extremely easy to read.
Key Features: Bold design, friendly tone
Artist: Ten by Twenty
17. Sansation
While Sansation is considered a sans-serif typeface it looks somewhat like a serif font. It's sloped ascenders give it some added 'fun'.
Key Features: Sloped ascenders, upper & lower case
Artist: Berned Montag
18. Adam.CG Pro
Adam is a font inspired by Futura. It draws on an art deco style to create an easy to read typeface.
Key Features: Sharp edges, rounded counters, modern design
Artist: Shrenik Ganatra
19. Tracion
An extremely thick weighted typeface, Tracion is great for trailers and everything epic. As you can see in the example above, Tracion has some kerning issues so be prepared to adjust it.
Key Features: Thick weight, serious tone,
Artist: Marcus Lien Gundersen
20. Code Pro
Code is an increasingly popular typeface used in every aspect of graphic design. It's wide counters allow it to be easily masked in After Effects.
Key Features: Rounded contours, symmetrical glyphs
Artist: Font Fabric
21. Bebas Neue
Bebas Neue is an extremely popular typeface that can easily take your designs to the next level. It's blocked-style letters give it a theatrical look.
Key Features: Modern design, soft tone
Artist: Ryoichi Tsunekawa
22. Simplifica
Simplifica is a thin typeface that includes both upper and lower case letters. It plays homage to industry through it's uniform design.
Key Features: Thin weight, symmetrical design
Artist: K A I W A
23. Kirvy
Not quite as curvy as the name implies, Kirvy is a symmetrical typeface with a higher-than-usual x-height. It is a good blend of modern and urban design.
Key Features: Urban undertones, sharp angles
Artist: Youssef Habchi
24. Bosun
Bosun is a modern fun interpretation of sans-serif typefaces. It has over 250 glyphs that can be used for your designing pleasure.
Key Features: Fun design, slanted descenders
Artist: Kid Grandios
25. Gobold
Gobold is a good blend of epic and modern. Although it may be a little too elongated for most design situations, it's simple shapes allow it to be easily manipulated.
Key Features: Heavy weight, elongated height
Artist: Situjuh Nazara
If you are interested in learning more about using typefaces or want to take your motion graphic design skills to the next level, we highly suggest checking out the After Effects and Apple Motion sections of the PremiumBeat blog.
Any fonts that should have made the list? Have you had any luck with these fonts? Share in the comments below.