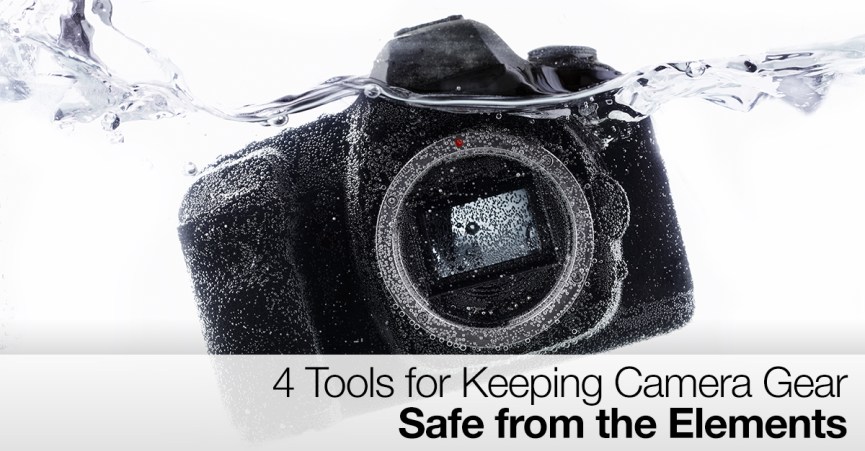 4 Tools for Keeping Camera Gear Safe from the Elements
You don't have to spend a lot of cash to keep your camera video gear protected.
Often when shooting out in-the-field you have to deal with the elements. Exposure to water or dirt can be disastrous to your equipment. You've probably tried the old 'put it under your shirt technique', but if you're wanting to protect your equipment the right way there are a few pieces of equipment that are worth the investment.
Some of these tools are more 'professional' than others, but all of them are guaranteed to give you a leg up on keeping your equipment out of the elements. The following list is ordered from least expensive to most expensive, or in other words 'least reliable to most reliable'. These are designed to keep your equipment protected, but the best way to prevent water or dirt from getting into your gear is to avoid it altogether.
Note: these tools are meant to protect gear that isn't in-use. If you want to find some cheap ways to cover you camera for active productions I highly recommend checking out "4 Inexpensive Ways to Keep Your Camera Dry" by Digital Camera World.
1. Ziplock Bags
Keeping your gear protected doesn't have to be rocket science. Ziplock bags are avaliable in an extra large size, perfect if you are looking for a cheap way to keep you gear dry. These do have their disadvantages, as the seal sometimes can come undone or worse, rip.
Price: $5.99
2. Sea to Summit Dry Sack
The Sea to Summit Dry Sack offers a rollable and foldable snap seal for added protection. The bags can be conveniently stored without the fear of rips or tears. They also happen to be much cheaper than other dry bags. Sea to Summit recommends double bagging particularly sensitive items.
Price: $12-$40
3. SeaLine EcoSee Clear Dry Bag
If you want to see what's on the inside of your dry bag without opening them up, check out these dry bags created by SeaLine. Their EcoSee clear series offers the same protection as the Sea to Summit dry sack, but in a clear bag.
Price: $20-$80
4. Dry Box
The dry box is admittedly a much bulkier alternative to using a dry sack, but with  it you can rest assured that your equipment will stay 100% dry and clean, even when dumped under water. These cases are also bright orange so if they fall out of a boat  you will easily be able to find them.
Price: $22
The following video tutorial created by Richard Harrington with Lynda.com shows us how to use a few of these dry sacks.
This video was first shared by Lynda.com. Thanks for sharing guys!
If you've already accidentally dropped your camera in water it isn't too late! Check out our "You've Dropped Your Camera in Water… Now What?" post.
Have any other methods of keeping your gear safe? Share in the comments below.