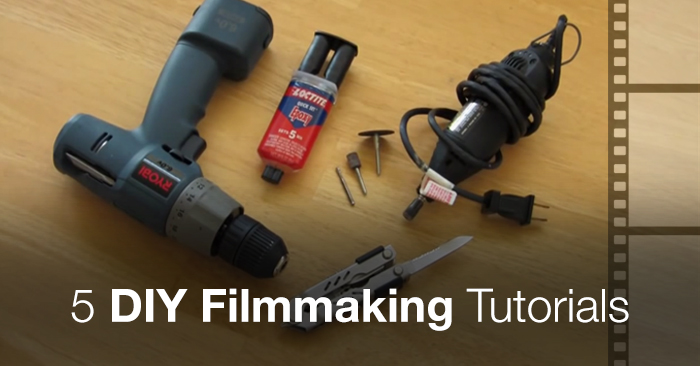 5 DIY Filmmaking Tutorials
Feeling handy? Check out these video tutorials for do-it-yourself filmmaking equipment.
Filmmaking gear can add up – but with these video tutorials you can create awesome DIY filmmaking equipment at a fraction of the price of their commercial counterparts. With the right tools and a little bit of patience you can achieve great results without a hefty price-tag.
DIY Dual Shoulder Mount
A dual shoulder mount helps to keep your camera level, instead of leaning to the side when focusing. In this video tutorial by FilmRiot we take a look at how to build a dual shoulder mount with adjustable weights.
The Cost: $25
DIY Camera Slider
A camera slider can add tons of impact to your shots…and with this DIY filmmaking project it can also can be created at a very low cost.
The Cost: $8
DIY Boom Pole
Cheap boom poles are notoriously bad for film production. Nothing screams amateur more than using a gaff tape broom pole instead of the real thing. But thankfully with this tutorial by FrugalFilmmaker we can make a professional quality boom pole using just a few items from the hardware store.
The Cost: $27
DIY Track Dolly
If used correctly, a track dolly is by far one of the most useful tools you can have on set. Unfortunately, they can be prohibitively expensive.
There are a slew of videos on the Internet about how to make a track dolly but this one by Zoltan seems to be very extensive while remaining inexpensive.
The Cost: $80
DIY Camera Jib/Crane
Camera cranes and jibs are used to get overhead, sweeping shots. They can really take your production to new heights, pardon the pun! In this tutorial by FilmRiot we take a look at how to build an effective camera crane on a cheap budget.
The Cost: $150
Do you know of any better DIY filmmaking tools. Please share in the comments below!