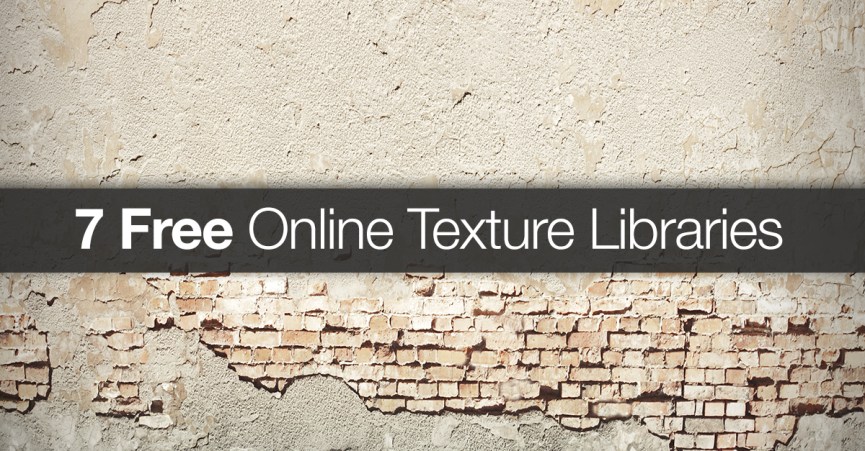 7 Free Online Texture Libraries
Build your library with these free texture websites.
If you are a CG artist or motion graphic designer than you probably use the internet to find textures for your projects. Unfortunately, due to copyright restrictions you can't simply use a search engine to find textures. This is where online texture databases come in handy.
Some of these databases are good and some of them… not so much. In order to make the process much easier, we've listed out a few of our favorite places to find free textures. If you have any other suggestions besides the websites listed here please feel free to share them with us in the comments below.
1. CG Textures
While still a great source of textures, CG Textures has evolved over the years to include more "stock photo" style photographs featuring over 107,415 images. Unlike Mayang's, CG Textures has a handy search bar to help with your navigation along with a bunch of free tutorials to help you learn how to use the textures in Photoshop. CG Textures licensing agreement is very wide open and you can use them both commercially and privately for free. They also have a few membership options that give users the ability to download larger quantities of textures per day. Memberships start at $76 a year and go up from there.
2. Texture King
While not as extensive as Mayang or CG Textures, Texture king is also a great resource to find free textures online. All the images are totally free to use and you don't have to worry about download limits. Don't be expecting any iPhone 6 textures any time soon, they haven't added any new textures since 2013. But still, all the textures are 100% free.
3. Free Stock Textures
Free Stock Textures offers 100% free textures that you can use in both personal and commercial projects. They have a lot of really easy to navigate categories, but most notably Free Stock Textures gives users the ability to find textures based on color. There is no download limit, but make sure you have a big enough hard drive. Most textures here are around 10mb each.

4. Open Game Art
Open Game Art features textures and stock images that are intended for 3D modeling and motion graphics. While you will find the normal assortment of grunge textures, Open Game Art specializes in things that are helpful for CG Experts including reflection mattes and environments. There are a variety of licenses depending on the image, so be sure to find out before downloading.
5. Mayang's Free Texture Library
With over four thousand free textures, Mayang's Free Textures is one of the best places to get textures on the internet. Textures are broken up into sub categories making it incredibly easy to navigate. Their licensing agreements are also incredibly relaxed, allowing you to use the textures in virtually any situation. You can only download up to 20 free textures a day on Mayang's website, so if you don't want to wait 218 days to download the entire library you can purchase the entire library for only $33. Not a bad deal at all.
6. Texture Mate
In addition to having a plethora of free textures, Texture mate also features brushes, patterns, and vectors that are all free as well. Users can search textures by popularity, color, and categories. Texture Mate has also created some free packs to make it easier to build your texture archive. You are allowed to use the textures on any project with no restrictions.
7. TextureLib
TextureLib is very similar to Free Stock Textures in that all the textures have been shot and distributed by one person. As a result, all the textures are 100% free for you to use on personal and commercial projects. You are however limited to 1 download a day, If you are looking to extend your download limit you have the option to purchase "full access" for a small fee starting at $1.
Now that you have all of these great textures it's time to do something with them. If you are interested in learning about how to use these textures in Cinema 4D, After Effects, or even Apple Motion check out the PremiumBeat blog. We have hundreds of articles dedicated to helping you become a better motion designer.
Know of any other great places to find textures? Share in the comments below.