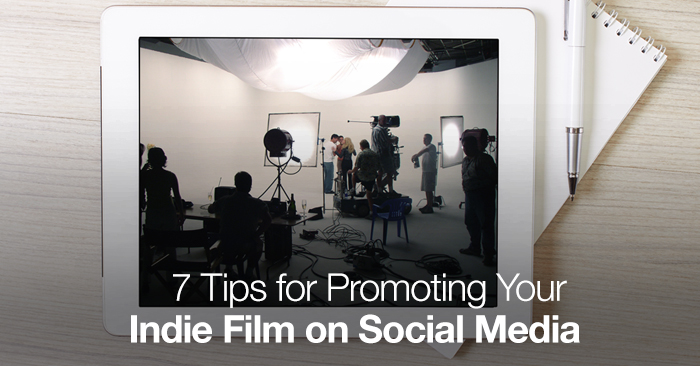 7 Tips for Promoting Your Indie Film on Social Media
Creating a social media strategy is the key to finding grassroots support for your film project.
It's no secret that success on social media can lead to success in the box-office, but social media can sometimes feel unnatural and foreign. Social media marketing is more than just creating a Facebook page, posting images and hoping for a following. Take the time to develop a social media strategy and see it through. Check out these 7 tips for social media marketing success.
1. Hire a Graphic Designer
Start your social media journey off right by nailing the right marketing message for your project. A graphic designer is a solid investment for creating professional content for your marketing. There are a lot of good online resources like Fiverr, CrowdSpring and 99 Designs, where you can hire good designers inexpensively.
Professional graphics are a great way to establish the legitimacy of your film before you have any cast or crew on-board. If your production is so independent that you can't afford to pay crew and actors, a good movie poster can get potential crew members excited about your project.
And be honest with yourself. If you're not a Photoshop pro or don't have an exceptional eye for design, it's best to leave this work to a professional.
2. Examine Relevant Communities
So you've got the basic marketing materials created: a poster, a logline about your film, a trailer and a Facebook page or Twitter account. Where's your audience? In order for a social media strategy to be effective you've got to develop your audience, and quickly. One way to find people that may be interested in your project is to look online for niche communities that have to do with your film's genre or subject matter.
Doing a horror film? There's a Facebook page with over 1.5 million horror film lovers and a Reddit dedicated to all things horror with a targeted audience of another 50,000 people. Or perhaps your film deals with a social issue like immigration, medicine or the enviornment. Find organizations that focus on these issues. Whatever the genre or subject, there's an online community dedicated to it. Find it! If they can advocate for your project you'll be exposed to a large group of natural supporters.
Take advantage of Facebook's custom audiences feature to target your postings to a relevant audience.
3. Stay Consistent
It can be easy to get caught up in the midst of creating an indie-film and forget about your online fans. The secret to keeping your audience excited is to consistently post news and updates on your production progress. 'Consistent' doesn't mean you need to bombard your audience with multiple posts daily, but set a goal to provide updates once or twice a week.  When your production schedule becomes absolutely grueling there are a lot of good online tools that can help you pre-schedule your posts, like HootSuite and Tweetdeck.
Be sure to interact with your followers – social media isn't a one way street!
4. Take On-Set Pictures
Production photos are a great way to generate buzz around your project. Statistics show that posts with photos receive significantly higher engagement on Facebook and Twitter.  Photo posts represent 87% of the shared content on Facebook, versus only 4% for link based posts.
Although you should encourage everyone on your team to take photos, make it the responsibility of one crew member to take a ton of behind-the-scenes shots.
5. Incentivize Your Followers
A recent change in Facebook's policies now allows you to host promotions and collect entries through a FB post. In the same way rewards are aimed at incentivizing Kickstarter supporters, you can generate buzz by giving away promotional items on Facebook that relate to your film. Randomly select a winner or encourage more participation by asking questions.
6. Make it a Collaborative Effort
Who said you have to do social media alone? Encourage your cast and crew to interact with the film's social media online. This can be through sharing posts they find interesting or even posting their own original content. You're busy…there's no shame in asking others for help in this area.
7. Talk to Other Filmmakers
Get people talking about your film by being the initiator. Seek out other filmmakers and comment on their content. Follow film professionals on Twitter and interact. Build support for your film project by supporting the work of others.
Got any tricks for social promotion?
Let us know about them in the comments below.