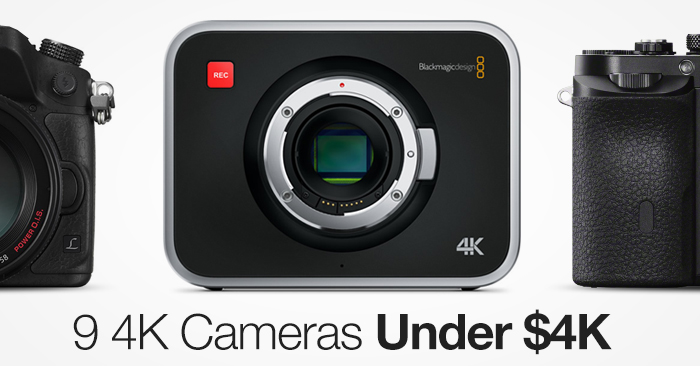 Nine 4K Cameras Under $4K
It's high-resolution, not high-price, that makes these cameras standout.
4K is quickly becoming an industry standard in video and film production, but with all the 4K camera options it can be overwhelming to figure out which camera is right for you. In the following post we take a look at the notable specs of  our favorite 4K cameras – all under $4,000.
If you have any other camera suggestions for the PremiumBeat community we would love to hear them in the comments below!
1. Blackmagic 4K Production Camera
The Blackmagic 4K Production Camera is the only 4K camera on this list that has the ability to record in 12-bit 4K CinemaDNG RAW. This is incredibly important if you plan on doing serious color correction in post. Instead of recording to an SD card, the Blackmagic 4K records to SSD drives which can then be attached to a computer. Other notable features include 12 stops of dynamic range, a large 5 inch display, and a free DaVinci Resolve license with each purchase.
Price: $2,995
2. GoPro HERO3+ Black Edition
At 4K, the frame rate of the GoPro HERO3+ is only 15fps which isn't cinematic, but certainly impressive. The GoPro HERO 3+ also has built-in time-lapse capabilities. In addition to shooting 4K footage, the HERO3+ has the ability to record 2.7k at 30fps. Pretty incredible quality at this low price.
Price: $399.99
3. Leica D-LUX (Typ 109)
Created by one of the world's most prestigious camera manufacturer, it's no surprise that the Leica D-LUX gives users 4K in an ultra-sleek camera body. The included lens is is a 24-75mm f/1.7-2.8  (very fast and versatile). While this isn't a professional video camera, it is certainly a good option if you are looking for a point-and-shoot with 4K recording capabilities.
Price: $1,195
4. Panasonic FZ1000
In line with the Leica D-LUX, the Panasonic FZ1000 is an incredibly dynamic camera that also includes a Leica lens. The camera has built-in 5 axis image stabilization and 4K recording at 30fps. The included lens is a 25-400mm (yes, you read that right) f/2.8-4 Leica lens. While you won't be able to change out lenses with this camera it is ideal if you need to shoot 4K footage quickly.
Price: $899.99
5. Panasonic LX100
The Panasonic LX100 can be viewed as a combination of both the Leica D-LUX and the Panasonic FZ1000. It includes a 24-75mm f/1.7-2.8 Leica lens that is attached to the camera. Users can choose to record 4K footage at 24fps or 30fps and full HD up to 60fps. Manual control rings also make it useful in a production context as well.
Price: $899
6. Panasonic GH4
After making a splash at NAB 2014, the Panasonic GH4 has quickly become a go-to camera for filmmakers everywhere. Not only does it record in 4K but it also gives users the added ability to output 10-bit 4K footage with the additional YAGH Unit. The GH4 has shown that you can get great 4K footage from a small DSLR-like body. It even beat a RED Epic and a Canon 5D Mark III in a recent sharpness test.
Price: $1,699.99
7. Panasonic HC-X1000
This isn't your average camcorder. The Panasonic HC-X1000 records 4K footage at 24fps natively in-camera. It also gives users manual control with rings dedicated to focus, zoom, and aperture. The camera has built-in image stabilization that can correct handshake up to 4,000 times-per-second. In addition, the camera also has all the features you would want in a professional grade camcorder such as zebras, color bars, historgrams, and built-in ND filters.
Price: $3,499.99
8. Sony FDR-AX100
This Sony FDR-AX100 camcorder records 4K footage at 30fps. Sony has included as Zeiss lens with 12x zoom. Outside of 4k, users have the ability to record up to 120fps in HD. The camcorder also has Sony's SteadyShot technology, so smooth images are incredibly easy to capture.
Price: $1,999
9. Sony A7S
The Sony A7S in an incredible little camera that debuted at NAB 2014. While you can't record 4K footage in-camera you can output a 10-bit 4K signal to be recorded by an external recorder. More impressive than it's ability to output 4K footage is it's low-light capabilities. With expanded ISO that extends up to 409,600, the A7S can shoot properly exposed images in near darkness. It has a built-in 25 point autofocus system and the stills from this camera are quality. It accepts any lens with a Sony E mount and has a 3 inch tilting display.
We can expect to see more 4K cameras below $4,000 in the near future, but for now it seems like Panasonic is pushing this new technology faster than everyone else. We will be interested to see if other camera manufactures like Canon or Nikon will begin to produce more affordable 4K cameras.
Have you used any of the cameras on this list? Share you experience in the comments below.