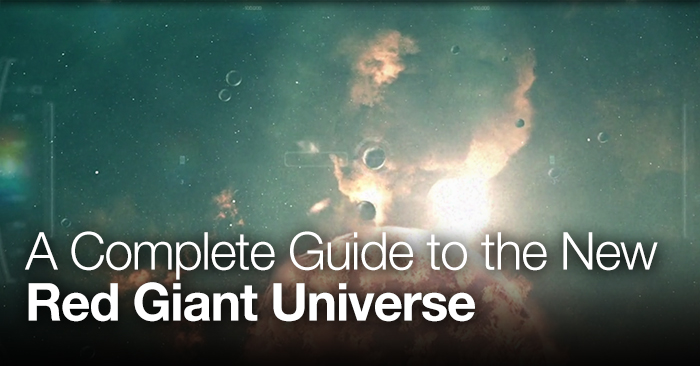 A Complete Guide to the New Red Giant Universe

Red Giant is launching Universe, a new community for VFX and video editing plug-ins.
Today Red Giant Software, creators of popular video editing and visual effects software, have officially announced their latest endeavor, Red Giant Universe…
What is Red Giant Universe?
Universe is a community that gives members access to powerful free tools for editing, filmmaking, visual effects and motion design, including a collection over 50 new plug-ins for use in Adobe After Effects, Adobe Premiere Pro, Final Cut X and Apple Motion.
Through Universe, Red Giant is pledging to create and develop new plug-ins based on community voting and user feedback. They'll also be updating their existing products to work in the Universe, including Knoll Light Factory EZ, Retrograde and Toonit.
The Universe works on both Mac and Windows machines and allegedly runs much faster because it uses the computers GPU. They even boast that some effects and transitions will work in near real-time.

A Few of the effects offered in Red Giant Universe.
Red Giant is also announcing the creation of their newest effect editor, Supernova. With Supernova users who are interested in creating new plug-ins for After Effects, Premiere, Final Cut X or Motion can use Red Giant's library of effects.

A Screenshot of Red Giant Supernova
So, how much does it cost?
Red Giant has two different levels of access to the Universe, Free and Premium. Free membership gives users access to 31 free plug-ins, 22 effects and 9 transitions.
Premium members will be able to access 19 more exclusive plug-ins, 12 effects and 7 transitions. Premium membership can be purchased through a $10 monthly subscription, a $99 yearly subscription, or a $399 lifetime subscription. As a premium member you will also get access to private beta tests for new tools and have access to some existing Red Giant plug-ins.
What are the OS requirements?
Mac OS X Mountain Lion 10.8.5
Mac OS X Mavericks 10.9.0 and later
Windows 7 with Service Pack 1
Windows 8 and 8.1
What programs work with Red Giant Universe?
Adobe After Effects CS5.5, CS6, CC
Adobe Premiere Pro CS6, CC
Apple FCPX
Apple Motion 5
How do I sign up?
You can sign up for Red Giant Universe at http://redgiant.com/universe. As of right now you can only sign up for the free version. Red Giant stated that premium memberships will be available in the next few weeks.
What are your initial reactions of Red Giant Universe?
Share in the comments!