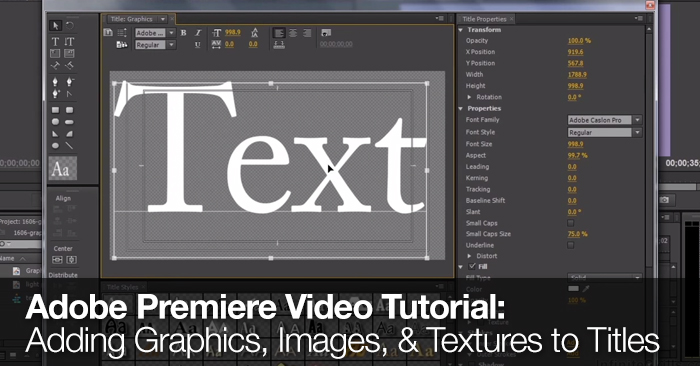 Adobe Premiere Video Tutorial: Adding Graphics, Images & Textures to Titles
Learn how to texturize titles in this Adobe Premiere video tutorial.
Although you can create much more dynamic titles in After Effects, Premiere Pro's title tool is a great alternative for anyone who doesn't want to spend a bunch of time learning (or roundtripping from) After Effects. Premiere's title tool offers a ton of features for basic title creation (such an improvement over the Final Cut Pro title tool – remember those days!?).
Although creating titles is pretty straight forward, if you want to add a little more character to your titles it will require just a bit of training. In the following video tutorial we will learn how to add graphics, images, and textures to your titles in Premiere Pro. The tutorial covers:
Texturing Titles
Adding Logos
Adding Images as Fills
This video was first shared by Infinite Skills on their YouTube Channel. Thanks for sharing guys!
If you need some free fonts to use for your next titles check out our '25 Free San-Serif Fonts for Motion Design' post.
Have any tips for manipulating titles in Premiere? Share in the comments below.