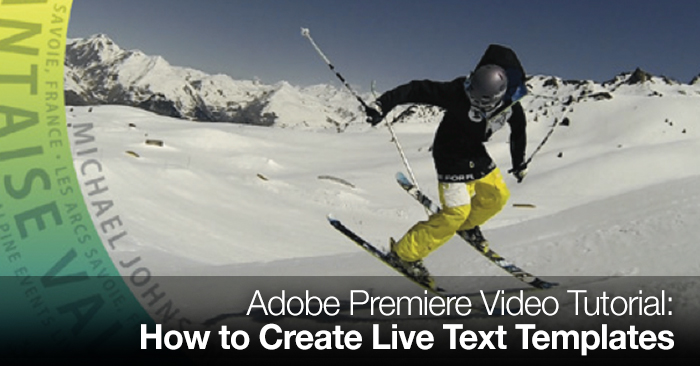 Adobe Premiere Video Tutorial: How to Create Live Text Templates
Easily create and edit text templates with the new Live Text Template feature integrating After Effects into Premiere.
If you haven't heard already, Adobe has just recently updated every program in the Creative Cloud. Some notable updates include new keying features in After Effects, 6K support in Premiere and Reference Images in SpeedGrade, but one update that has everyone excited is the new Live Text Template compatibility between After Effects and Premiere.
In short, Live Text Templates are text templates created in After Effects that can be edited, duplicated and manipulated in Premiere. This feature is surely going to speed up editing times, especially for those who edit TV shows or documentaries (make those lower third changes faster than ever).
In the following tutorial created by Lynda.com we will learn how to use the new Live Text Template feature and how to create your very own template. The video covers:
Creating templates in After Effects
Formatting a Template
Saving Templates out of After Effects
Importing Templates into Premiere
Editing Text Templates in Premiere
This video was shared from Lynda.com's website. Thanks for the great tutorials, guys! If you want to learn more about the latest update to Adobe's Creative Cloud check out our post that outlines the updates and how they apply to video editors.
Have any tips for using the new feature?
Share in the comments below.