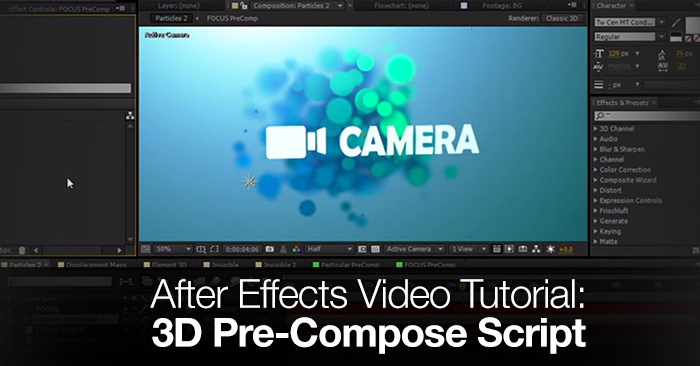 After Effects Video Tutorial: 3D Pre-Compose Script
3D pre-compose in After Effects with this free script from Andrew Kramer.
Andrew Kramer's done it again. This time he's giving away a free script specifically designed for 3D pre-composing. This may not sound very sexy but it will definitely save you time if you do a lot of work within AE. Instead of going back and forth copying and pasting lights and cameras in each pre-composed composition, you can now simply select which properties to transfer across pre-compositions.
If this all sounds like gibberish to you check out the following tutorial created by Kramer explaining how to use his new 3D Pre-Compose script. The tutorial covers:
Problems with Pre-Composing
Using Scripts
Working in 3D Space
Integrating Element 3D with the New Script
To download the free script visit the Video Copilot Blog.
This script and tutorial was first shared on Video Copilot's blog. Thanks for sharing guys!
Want to learn more about After Effects? Well you're in the right place! Check out the After Effects section of the PremiumBeat blog where you can find hundreds of After Effects tutorials, tips, and articles all designed to help you become a better motion graphic designer.
Have any other uses for this After Effects script?
Share in the comments below.