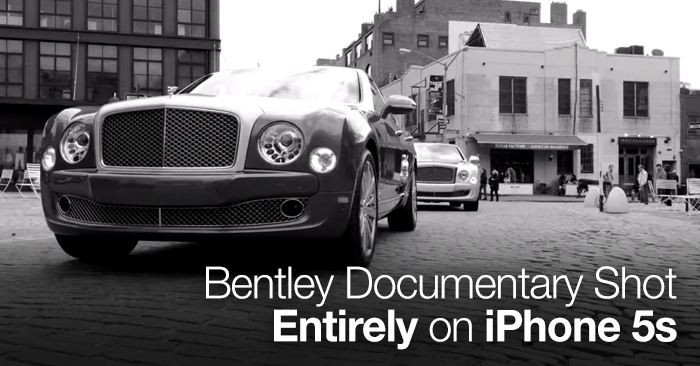 Bentley Documentary Shot Entirely on iPhone 5s
Check out this amazing documentary for Bentley Motors shot entirely on an iPhone 5s.
We live in crazy times. As equipment gets cheaper, more and more people are able to make impressive high quality videos without spending thousands (or hundreds of thousands) of dollars. In recent years we've seen a rise in DSLR and mirrorless camera popularity, offering 4K and RAW recording to the masses. Additionally, the explosion of mobile video technology has lead some to use their cell phone camera as a legitimate filmmaking and video production device.
The following is perhaps the most impressive cellphone video we've ever seen. Created by Reza & Co. based out of Santa Monica, California, the video is a 'documercial' shot for the luxury car manufacturer Bentley…and was shot entirely on an iPhone 5s. If you haven't seen the impressive video, here it is:
How They Did It
Reza & Co. used the BeastGrip mount to attach external lenses to the iPhone. The mount also allows for external mounting and features 58 individual components that can be taken apart to suit your needs. At $75 it's a great deal for anyone looking to build an awesome iPhone rig.
For stabilization they used a MoVI M5 three-axis gyro-stabilized handheld camera system with a combination of a Schneider iPro Lens and Neewer 0.3X Baby Death 37mm Fisheye lens. To get such an impressive image they used the $4.99 FiLMiC Pro to capture images at 50 mbps and 24fps. FiLMiC also made it possible to color grade and edit the footage.
If you wanted to go out and get a similar set up for your own iPhone productions you will need to spend around $6,000.
Know of any other awesome videos shot on an iPhone? Share in the comments below.