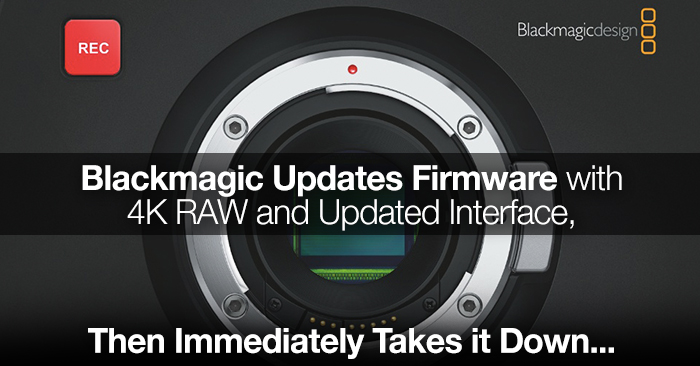 Blackmagic Updates Firmware, Then Immediately Takes it Down
A new Blackmagic update featured RAW 4K video and improved audio, but was quickly taken offline.
[UPDATE: Blackmagic has officially released firmware update 1.8 as of June 24, 2014. It's the exactly the same as the "beta" mentioned in this article.]
For many professionals the relationship with Blackmagic cameras is complicated. They have incredible specs but for some reason the firmware is not up to par. Simple problems like a clunky user interface and the 'black sun' problem have plagued all 4 current Blackmagic camera models, causing many people to purchase from other camera manufacturers instead.
Blackmagic has known about these problems for some time, but addressing these issues has taken longer than filmmakers had hoped. However, a new update to the Blackmagic camera line surfaced today, then miraculously unsurfaced (in what can only be described as a beautiful mistake).

Courtesy of ponysmasher 
The Blackmagic firmware 1.8 update was accidentally posted on their website earlier today and then taken down soon after, but not before it was downloaded by a few lucky filmmakers.
Terry Frechette of Blackmagic Design addressed the unofficial update earlier today [via NoFilmSchool] :
There was a false download sent around (no idea who started it). This is not a software release we have approved. We don't support it and it should not be installed on cameras.
So there's a chance that it has a few bugs in it. However,  it does seem to come with some cool new features for all 4 cameras. Like…
Blackmagic Production Camera 4K
Updated user interface
Lossy compressed RAW DNG recording support
Addresses an issue where pixel artifacts are seen in edges with strong highlights while shooting in 1080 mode
Adds autofocus support for compatible EF lenses
Blackmagic Cinema Camera
Updated user interface
Adds autofocus support for compatible EF lenses
Improved debayering when shooting to ProRes or DNxHD
Improved focus peaking display
Improved ISO handling when shooting at ISO 1600
Improved general audio performance
Iris setting is retained when switching between camera recording and clip playback
Blackmagic Pocket Cinema Camera
Updated user interface
Improved performance when recording using internal microphones
Improved instances where a grid-like pattern may occur in some flare highlights
General improvements in autofocus with active MFT lenses
Adds supports for stabilization in MFT lenses without physical O.I.S switches
Improved support for Sigma MFT lenses
Improved support for Lumix 12-42mm PZ lens
Improved support for Olympus 60mm f/2.8 MFT lens
Iris setting is retained when switching between camera recording and clip playback
Blackmagic Studio Camera
Improved phantom power compatibility
Addresses an issue with interlace video being output as progressive video
While this update is unofficial, it does give up a pretty good glimpse into what the next update is going to look like. Most notably the ability to shoot RAW 4K footage. This should make it a very interesting competitor to popular cameras on the market including the GH4. Improved audio features should make it much better for syncing up dual system audio in post.

Focus peaking is now green, courtesy of ponysmasher

Again, this update is not official and could cause major damage to your camera. But if you are still interested in trying it out you can probably find it online. We anticipate the official download of this update to be released very soon. 
We'll let you know when the new update officially hits on the PremiumBeat blog and Twitter. 
Links:
Blackmagic Design Updates Its Cameras' Firmware – Download Version 1.8  – Softpedia
Blackmagic 4K Camera Gets RAW, But Firmware Update is Taken Offline – NoFilmSchool
Any more features that you think Blackmagic should add before it officially goes live? Share in the comments below.