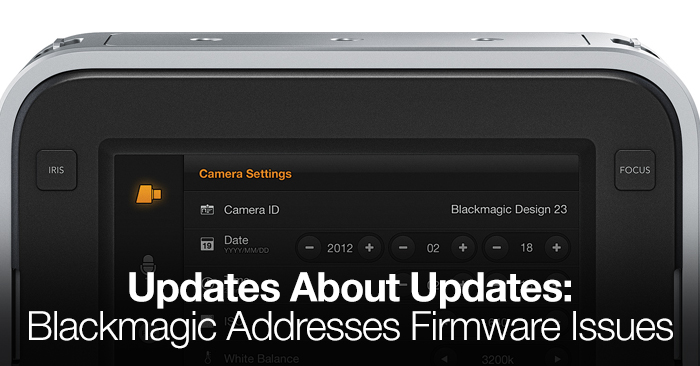 Updates About Updates: Blackmagic Addresses Firmware Issues
Blackmagic updates will make BMCC & BMPCC better, but not perfect.
A firmware update may be coming to your Blackmagic Cinema Camera and Pocket Camera. In an update posted on the BlackMagic's forum, Kristian Lam of Blackmagic Design gave an overview of firmware updates coming to the two inaugural cameras. While the updates aren't complete they definitely will make the cameras more useable.
The Updates
The updates that are going to be released in the very near future are:
New debayering for shooting directly to ProRes or DNxHD on the Blackmagic Cinema Camera EF and MFT
Improved MFT lens support on the Pocket Cinema Camera
Compressed RAW support on the Production Camera 4K
Autofocus support for EF lenses on Blackmagic Cinema Camera EF and Production Camera 4K
Lam stated that he believes they are "very close" to releasing the update. A few beta testers have been selected to try out this new update and have been doing so for a few months now. He also stated an intent to add audio metering and a histogram display in future updates as well. Other features that are likely to happen either in this update or future updates are the ability to format cards in the camera and a time remaining indicator.
The Black Sun Effect

Photo courtesy of NewShooter
One of the biggest problems facing Blackmagic users is the dreaded Black Sun effect. A big black spot is usually caused when shooting video of the sun and as Lam states, it "is a fundamental characteristic of CMOS sensors". Lam states that they are trying to fix the problem but no fix seems to be coming in the near future.
Some sensors have additional circuitry to try and overcome this and this was available in the Pocket Cinema Camera. Unfortunately, it is not in the 2.5K sensor. Also, black sun correct circuitry is also not an on/off switch and with some sensors, it may result in other unwanted artefacts so we have to be really careful about it.

Another method of overcoming the black sun effect is via image processing after the image has been acquired and passed on from the sensor. This is basically running an algorithm to try and detect what looks like the black sun and just clipping the black areas.

Again, this could result in false positives and if you have a pattern in the image that is similar to the black sun, it could mistakenly be "corrected" as well. As you can see, this is a tricky situation. We are not ignoring it, but working to see what is the best way to address this.
We aren't sure when the firmware updates are scheduled to be released, but Kristian Lam is hinting that it will be in the very near future. Keep coming back to the Premiumbeat blog to get the latest Blackmagic information.
What do you think of Blackmagic's update, update? Share in the comments below.