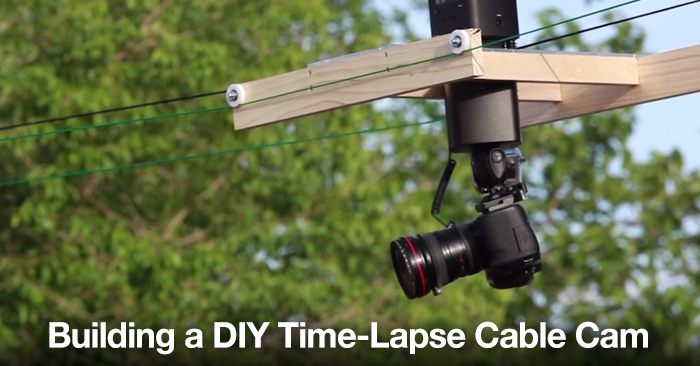 Building a DIY Time-Lapse Cable Camera
Create a custom timelapse cable cam using the tools and technique in this video tutorial.
Ok lets set something straight right off the bat….normally when you hear the term "DIY" it infers that the project is going to be cheap. This project is not cheap. Primarily because it requires you to own or have access to a SYRP Genie with ball head which retails for $999 (however, you may be able to find a cheaper alternative). If price isn't a problem, this is an impressive homemade build for creating a motorized cable cam specifically for time-lapse video. See an example of this type of shooting:
DIY cable cams are notoriously shaky and loose which does not bode well for those trying to capture time-lapse video. Professional quality time-lapse footage have consistent and smooth movements which can only be accomplished by using some sort of motor. The Syrp Genie allows for people to get awesome moving time-lapse footage while utilizing a rotating head to add a second level of 'oomph' to their video. It's a great tool and the following tutorial will show you how to make a 2 axis cable cam. First you will need to go to the hardware store and pick up…
4 x Patio Door Rollers
5 x 3/8-16" Bolts
1 x Clamp 1/8" Set (2 pcs)
1pk Washers (12pcs ea)
1 x 25pcs Hex Nuts
4pk Ratchet Tiedown Set
100 feet 1/16" Wire Cable
24×18 Acrylic Sheet
Pack of 1 1/4" Screws
100m Reel Syrp Rope
2"x4" – 6 Feet
1"x2" – 6 Feet
1"x3" – 6 Feet
Syrp claims that the supplies were purchased for $172.72 at Home Depot. This list of course leaves out the Syrp Genie with ball head which can be purchased from B&H for $999.
This video was created by Syrp. You can read more about the Sryp Genie or any of their other products on their website. Thanks for sharing guys!
Know of a better or different way to achieve this effect?
Share in the comments below.