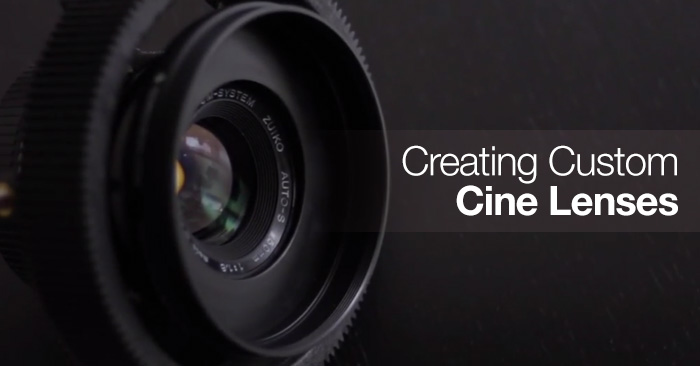 Creating Custom Cinema Lenses
Make a custom cine lens for less than $150 using the technique in this video tutorial by Caleb Pike.
If you're used to shooting on a DSLR, odds are you probably own a few lenses that were created specifically for shooting pictures and not video. These lenses usually have apertures that click and no grooves for mounting a follow focus. While normally we would have shied away from lenses like this, we recently came across an awesome video tutorial by Caleb Pike of DSLR Video Shooter that shows us how to take cheap/old photography lenses and convert them into high-end cine lenses.
The process doesn't take much time at all, and it's a lot cheaper than going out and buying a normal cine lens. On DSLR Video Shooter he explained how he purchased and converted 3 Olympus OM lenses to Canon Cine Lenses for only $431. Compare that to the Rokinon 35mm Cine lens which goes for $549 on B&H and you can see that this could really help you save a lot of money in the long run.
The tutorial is a little long but well worth a watch for anyone interested in DSLR cinematography. Caleb covers a lot of really interesting topics such as:
Converting the Lens Mount
De-clicking the Aperture Ring
Adding the Lens Gears
Using 80MM Cine Rings
Matt Box Compatibility
Adding Push On Caps
Best viewed full screen:
If you are fearful of declicking your lens yourself you can send it to Duclos and they will declick your lens for $60. You can buy the Olympus OM lenses all over the Internet, but Ebay and Goodwill may be the best places to find a good deal.
This tutorial was first shared by Caleb Pike at DSLR Video Shooter. Thanks for sharing Caleb!
Have any other tips for creating custom cine lenses?
Share in the comments below.