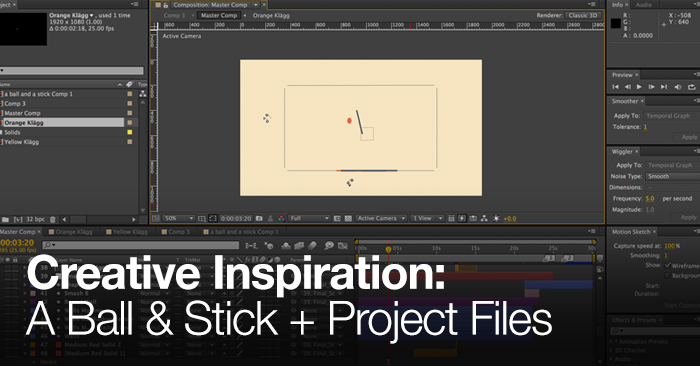 Creative Inspiration: A Ball & Stick + Project Files
A Ball & A Stick gives great insight into 2D animation techniques, plus free downloadable project files!
After Effects is the perfect tool for creating dynamic 2D animations and A Ball & A Stick is a great example of what can be achieved if you have patience and expertise.
Animator Oscar Pettersson created this project when he was trying to "dig deeper into shape layers, graph editor, and animation in general." He used many techniques found in the "Animators Survival Kit" by Richard Williams, a book we highly recommend. Here's the video:
Pretty inspiring huh? Oscar was also kind enough to give access to his project files. The project is mostly comprised of shape layers. Pay special attention to the part where the ball breaks away from the sticky wall. Through keyframes mask paths and a simple pre-comp he was able to give the illusion of sticky liquid.
Snag the download over on the video's Vimeo page.
Thanks for sharing Oscar!
Know of any other great videos with project files?
Share in the comments below.