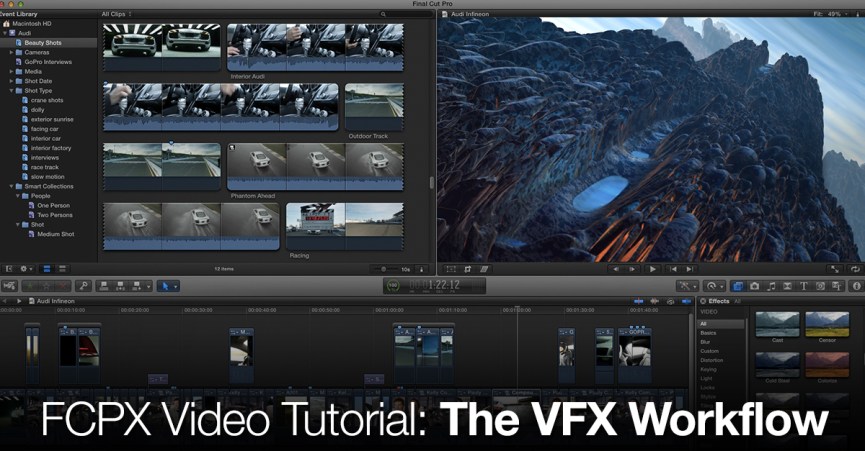 FCPX Video Tutorial: The VFX Workflow
Visual effects and Final Cut Pro X working together in harmony? Pick up some tips in this great tutorial from our friends at MacBreak Studio.
Even if you're primarily a video editor, odds are you probably dip your toes into the visual effects water from time to time. Ensuring that your VFX workflow is well executed is extremely important, but all too often it can become complicated quickly, especially when relying on others to do your VFX work.
In an ideal world you would work alongside VFX artists in the same room, all working together to complete a project. Most of the time however, such an arrangement is far from reality. So, it becomes even MORE important to stay digitally organized when your VFX team or artists are working remote.
In this FCPX video tutorial, the guys from MacBreak Studio discuss what a digital VFX workflow looks like in FCPX. The video covers:
Working with Plates
Adding Reference Movie Information
Working with Adjustment layers
Using keywords for VFX work
Creating EDLs
Making Countsheets
While this video is specifically geared to FCPX the techniques described can be used for most NLEs, not just FCPX.
You can download the free FCPX features overlays effect by going to Alex 4D's website. Also, if you are planning on integrating FCPX in your VFX workflow you may want to grab Producer's Best Friend.
This video was first shared by MacBreakStudio on Ripple Training's YouTube channel. Thanks for sharing guys!
What does your VFX workflow look like? Share in the comments below.