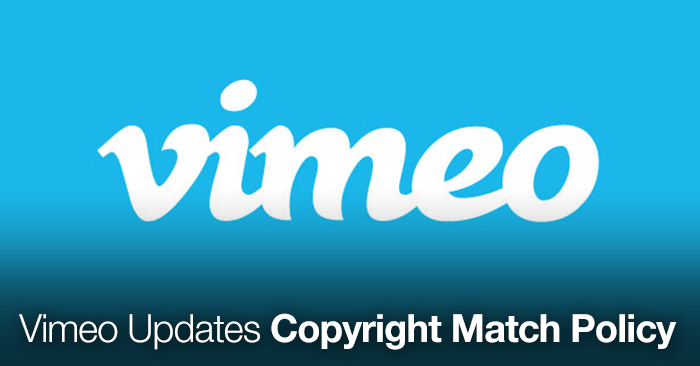 Flagged on Vimeo? Vimeo Updates Copyright Match Policy
Vimeo has updated their copyright match policy to allow for copyrighted music in private videos for paid subscribers.
For those of you who haven't heard, Vimeo has recently integrated a copyright match software into their uploading process. Videos now must go through a third party copyright match software hosted by Audible Magic, which flags videos with any third party video or audio. This new feature was created to protect artists who's songs were being illegally used in Vimeo videos.
Once copyrighted music is detected in a video, users can provide Vimeo proof of licensing/fair use, replace the video, delete the video or add royalty free music tracks that aren't entered into any content ID system.
Note: any music that is licensed on PremiumBeat will not be flagged, as we're not in any content ID program.
Videos are allowed to have copyrighted music if they fall under fair-use, but this is definitely a grey-area:
​The law doesn't provide clear-cut formulas for what type of content and how much of it you can use, but it does provide four factors that U.S. courts apply when making determinations. If you want to claim fair use, you should first read these factors and use your appeal to explain why you think they support your claim.
It's important to recognize that this isn't a simple checklist and that factors can be weighted differently in each case. Your appeal is more likely to be granted if you can provide a persuasive and thoughtful explanation as to how the four factors support a claim of fair use in your particular case.
The new announcement has received some major backlash from the video editing community, primarily because private videos are also reviewed through the content ID software. This is a problem because it is a common practice to upload a video with an unlicensed placeholder song when working with outside clients. Editors then purchase the rights to a licensed song at the end of the editing process. Vimeo has seen this problem and updated their policy.
Now Vimeo users who subscribe as either Vimeo PLUS or PRO members can privately upload videos without their videos being flagged for unlicensed music or video. The decision seems like a good move for now, and Vimeo states they are working on building support for private videos to bypass the copyright match software.
The entire announcement brings up debate over the legalities of using copyrighted music in private videos.
What do you think of the new Vimeo policy? Share in the comments below.
Links: Vimeo Copyright Match Q&A, Vimeo Launches ContentID (via Premiumbeat) & NoFilmSchool.