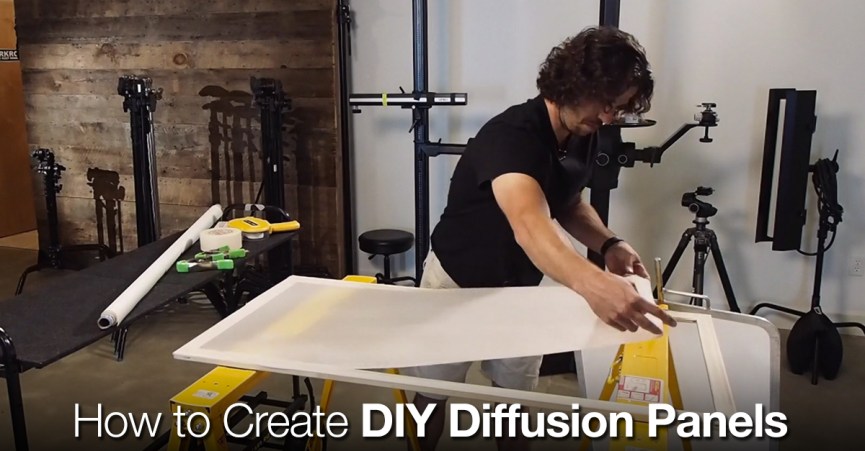 How to Create DIY Diffusion Panels
Learn how to get professional looking diffused light in this helpful DIY tutorial.
Diffused light is great. It's easy to work with and very forgiving, making it perfect for indie-film productions. However, getting good diffused light can be tricky.
When it comes down to picking the right diffusion panel to use on your video productions you normally have to decide between good or cheap. However, in the following tutorial we will take a look at how to create a quality DIY diffusion panel for as little as $30. 
To create this DIY panel you will need to pick up a few things, but they're inexpensive and you will definitely be able to use them on future projects.
You will need:
1. 4 Canvas Stretcher Bars
Price: $8-$20 for 4
2. White Gaffers Tape
Price: $20 for an entire whole roll
3. Diffusion Paper
Price: $80 for an entire 25 foot roll
4. Glue or Double sided tape
Price: $2.20 a roll
One thing I love about this DIY diffusion panel project, you don't need to own any expensive tools to make it. If you have any tips for making this diffusion panel better please share in the comments below.
This video was first shared by Tony Roslund on his Vimeo channel. Thanks for sharing Tony!
If you want to learn more about creating DIY diffused light check out our post on DIY Book Lighting. Or if you want a quick fix you can always buy a 5-in-1 reflector for about $17 on Amazon. The reflector has a circular diffusion panel inside, making it a great tool for any set.
Have any lighting tips to share? Let us know in the comments below.