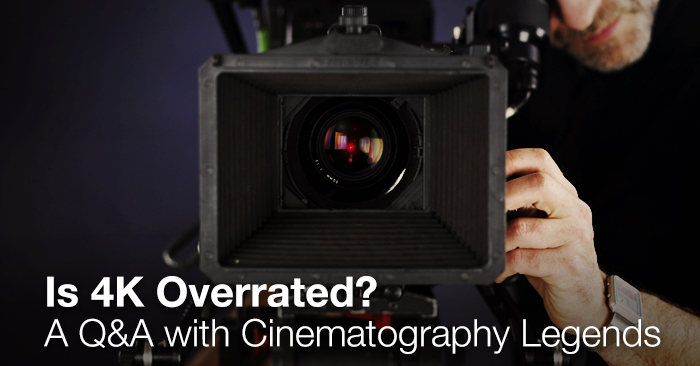 Is 4K Overrated? A Q&A with Cinematography Legends
4K is great, but is it as important as we are lead to believe? A few cinematography masters share their insights.
4K is currently all the rage in the filmmaking community. It offers higher resolution, sharper images, and it makes motion tracking easier…but is it overrated? Without many consumer devices supporting 4K, is it worth the additional production expense? In the following Q&A shot at this year's International Broadcasting Convention (IBC), Geoff Boyle, Rodney Charters, and Bill Bennett share their thoughts on the industry. The topics covered include:
4K Resolution
Contrast vs. Resolution
HDR Filmmaking
Streaming
Film Schools
The Future of Lighting
Unsure if you should make the jump to 4K? If your pursuit is a better image, investing in things like dynamic range and lighting is much more important than simply getting a higher-res camera. There are a lot of really good 4K cameras that are beginning to hit the market, but at the end of the day basic lighting and cinematography fundamentals make a better image, not camera specs.
As the video points out, we live in a time of change. 4K is becoming more prevalent and soon audiences will be demanding it. While at the same time, broadcasters simply won't be able to afford to upgrade their equipment. Online streaming websites like Netflix are beginning to offer 4K streaming, but the internal infrastructure of Internet streaming in the United States is absolutely shameful compared to the upload/download speeds abroad. It will be interesting to see what happens in the coming years.
Share your thoughts in the comments below!