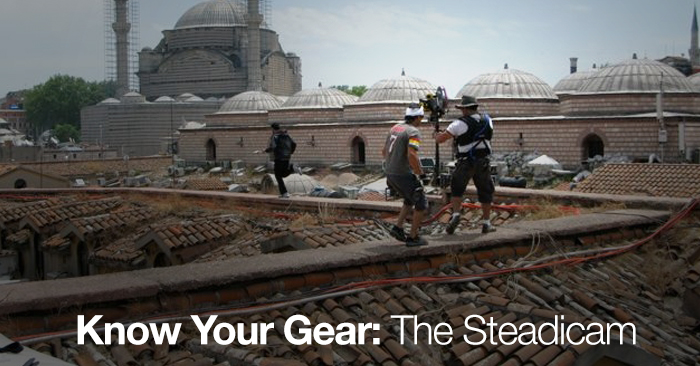 Know Your Gear: The Steadicam
Steadicams offer a wide variety of feature and pricing options. So, which one is right for you?
Since it's introduction in the the mid-1970's the Steadicam has been a great way to stabilize cameras. However, over the last two decades we've have seen steadicam stabilization hardware evolve into many different forms to handle specific challenges. In the following post we're going to examine some of the top Steadicams on the market, explore a few affordable options, and learn how steadicams work.

Photo: Sanjay Sami, Rooftops of Grand Bazaar in Instabul.
Invented in 1975 by cameraman Garrett Brown, the steadicam allows camera operators to recreate steady camera movement without the dolly setup. It's first introduction to Hollywood came with its use in the film Bound For Glory (1976). Since then countless filmmakers have used the Steadicam, most notably Stanley Kubrick for his film The Shining (1980) and George Lucas in Return of the Jedi (1983) for the speeder bike chase sequence.
You can check out our quick guide to Steadicam's here at Premium Beat.
Nearly 40 years since its introduction the Steadicam has become an affordable tool for both studios and independent filmmakers alike. With the introduction of DSLRs and GoPro cameras the Steadicam has grown more compact and lighter. We'll run through the heavy duty studio style rigs as well as the lighter rigs for independents and the price points for each.
For Steadicam options we'll look at two companies Tiffen, owners of the Steadicam brand, and Glidecam Industries.
TIFFEN:
Tiffen's high end line is led by the Ultra 2, a complete rig for any professional camera system (13-70 lbs. camera capacity). The Clipper and Shadow series are half the price (non-motorized), but offer the high-end features needed for feature film production. From there the product line goes down significantly in price, all the way down to GoPro and iPhone stabilizers.
Ultra 2 – Complete Rig ($66,000)
Clipper 324 – Non-Motorized System ($36,000)
Shadow Series – Basic Non-Motorized System ($35,000)
Zephyr – Standard Hi-Def System ($10,000)
Tango – Zephyr Only System ($8,000)
Scout – Standard Hi-Def System ($5,500)
Pilot – HD/SDI System Standard Vest ($4,000)
Merlin2 – Merlin Arm/Vest Kit ($1,000)
Solo – Standard Solo System ($500)
Smoothee – Standard Smoothee (GoPro, iPhone) ($149)
Curve – Stabilizer for GoPro Series ($100)
GLIDECAM:
For the last twenty years, Glidecam has offered a variety of camera support systems, from the professional level X series rigs, down to the lightweight support of the XR series.
X-45 – 25-45lbs Vest Support System ($19,000)
X-30 – 15-30lbs Vest Support System ($17,000)
X-20 – 10-20lbs Vest Support System ($6000)
X-10 – 4-10lbs Vest Support System ($2499)
Smooth Shooter – Vest Support System ($1500)
HD-4000 – 3.3lbs Hand-Held System ($649)
HD-2000 – 2.5lbs Hand-Held System ($549)
HD-1000 – 1.9lbs Hand-Held System ($449)
XR-4000 – Hand-Held System for Camcorders ($329)
XR-2000 – Hand-Held System for DSLRs ($289)
XR-1000 – Hand-Held System for Smaller Cameras ($199)
iGlide – Standard Hand-Held System ($149)
(Glidecam Prices Listed on Product Pages)
Have you used other solutions with other brands besides Tiffen and Glidecam? Let us know your story in the comments below.