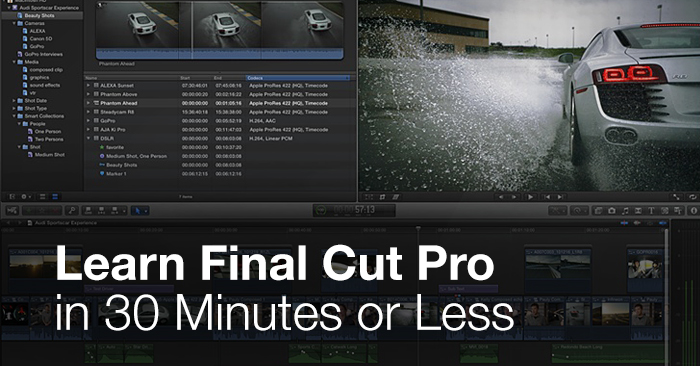 Learn Final Cut Pro in 30 Minutes or Less
In the following video tutorial by Jeffrey Bradbury you'll get up to speed on video editing in FCPX.
As filmmakers we're all stretched for time. It can be difficult to stay up-to-date on the latest editing software.
There are several professional software options for editing, with Final Cut Pro X being the newest. It's now being adopted by many professional post-production operations – so if you haven't learned it yet now's the time (especially if you're a freelance editor). If you don't know a specific software you very well could lose out on a job.
We've found a quick solution for anyone wanting to learn Final Cut Pro X but doesn't feel like they have a lot of time to sit down and learn it. In the following video presented by Jeffrey Bradbury, he takes a look at Final Cut Pro X and demonstrates how to use the editing software in as little as 30 minutes. The video covers:
Libraries and events
Ingesting footage
Simple keyboard shortcuts
Working with generators and lower thirds
In-points and out-points
Compressing and encoding footage
This video does a great job as in intro video into Final Cut Pro X but there is a lot more to be learned. For more information on FCPX visit our Final Cut Pro section on the blog. Thank you for sharing Jeffrey!
Know of any great Final Cut Pro X resources?
Share in the comments below.