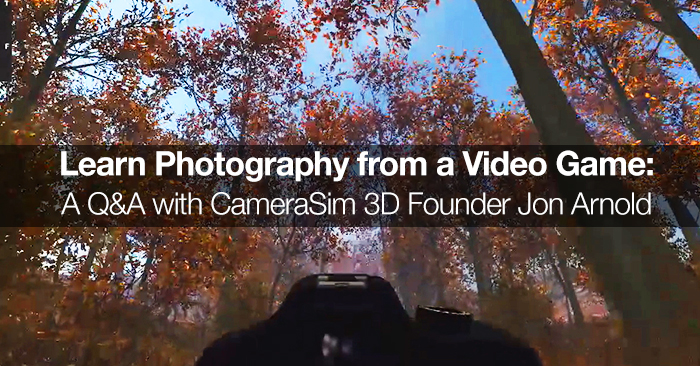 Learn Photography from a Video Game: Q&A with CameraSim 3D Founder Jon Arnold
Learn the technical skills needed to master photography using the immersive CameraSim 3D game.
Phones with cameras, cheap DSLRs, and an ever increasing equipment selection, has made being a photographer easier than ever. However, one of the biggest challenges to overcome when transitioning from amateur to professional photographer is learning how to shoot in manual mode. While there are a lot of really good online resources for learning how to shoot in manual, nothing compares to actually going out and shooting pictures with a camera…until now.
CameraSim
If you're a photographer in the industry then you are probably familiar with an app called CameraSim. In short, CameraSim is an app that allows user to practice taking pictures in manual mode. The app gives users the ability to change different parameters including focal length, ISO, aperture, and shutter speed. It can even be embedded into your own website for free.
Currently CameraSim's classic DSLR Camera Simulator is among 3 other simple-to-use apps all designed to help aspiring photographers learn framing, exposure, manual mode, and DSLR basics. These apps are indeed entertaining and fun to play around with, but CameraSim founder Jon Arnold decided to take his apps to a new dimension.
CameraSim 3D
CameraSim 3D was created as an immersive video-game like experience designed to teach users how to use a DSLR on a computer. This isn't your old Pokémon Snap game either. Between ISO, depth-of-field, motion blur, exposure, white balance and flash, CameraSim 3D simulates all the technical controls you will need to master the basics of photography.
Even more, CameraSim 3D will allows users to swap lenses to practice the best time to use a telephoto lens compared to a wide angle lens. After taking a picture users can save them to a photo album. But unlike real photography, CameraSim 3D remembers the exact conditions that your photo was taken under and allows you to pop up those conditions to share with others.
Check out this demo video previewing game footage from CameraSim 3D:
Pretty cool huh? Jon Arnold the founder of CameraSim was kind enough to answer a few questions we had about CameraSim 3D.
PB: What inspired you to create CameraSim 3D?
A: The response from photography students and teachers to the original CameraSim has been very positive, so I wanted to continue improving the app. Unfortunately, the 2D platform that I built CameraSim on was stretched about as far as it could go. I had sort of an "ah-ha" moment once I started looking into 3D gaming engines, which natively "think" in terms of scenes, cameras and lighting. It was a perfect paradigm for building a better photography learning tool!
PB: So would you consider yourself a photographer that develops video games? or a video game developer that enjoys photography?
A: I am captivated by 3D game development right now — I'm having that much fun. But over the last 15 years, I've been a photographer and a web designer, then a photographer and a user interface designer, and now a photographer and a game developer. So the common thread among all of those career pivots has been my love of photography.
PB: What has been the biggest challenge in creating CameraSim 3D?
A: By far, the biggest challenge has been reproducing photography principles that aren't inherently mathematical. For example, what is the value of ISO 6400 grain? What is the value of background blur at f3.5? What is the brightness value of a full stop over-exposure? I've done my best to interpret things like this based on hundreds of reference photos, but it's definitely more art than science. It often strikes me how much I've learned about cameras by having to simulate one!
PB: Do you have any future plans for CameraSim 3D?
A: I've spent the last 10 months focusing on the core 3D technology, and now a partner and I are working on getting this into a launch-able product. CameraSim will continue to evolve in response to our user feedback, so we're quite eager to get this new 3D version to market.
PB: When can we expect to see CameraSim 3D on the market?
A: We will be launching later this summer with our first structured lesson for students and some open-ended scenes for instructors.
PB: Where can people go to get CameraSim 3D news and updates?
A: We have a new playable demo, some video footage and a signup form for our growing email list at http://camerasim.com/apps/camerasim/.
PB: Is there anything else you would like to add?
A: The feedback we received from our first demo was invaluable and so appreciated, and we're now looking for feedback on the second demo we just released. So whether you're a photography noob or a photography pro, please try out the demo and let us know what you think!
Try it Yourself
As Jon said a complete version of CameraSim 3D isn't quite available yet, but a new 3D demo is available as of July 11. If you want to get an alert when CameraSim 3D goes live later this summer you can be notified via email by signing up on CameraSim's website. While you're there try out some of the 2D camera simulators or download CameraSim to your iOS devices, Android tablets, or computer.
Thanks for sharing your awesome new game Jon!
What do you think about CameraSim 3D? Are you excited to see it in action? Share in the comments below.