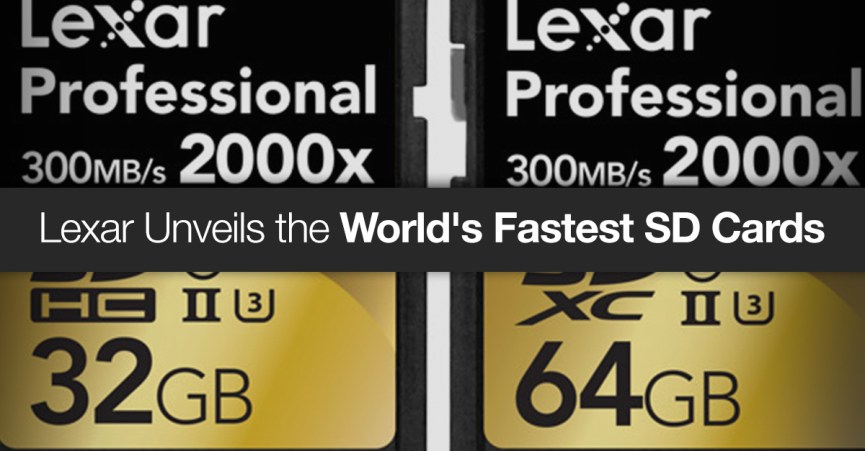 Lexar Unveils the World's Fastest SD Cards
The question is no longer whether the SD card can keep up with the camera.
You may have already heard that SanDisk released a 512GB SD card this past week effectively creating the worlds largest SD card. This is exciting news but unfortunately the 512GB SanDisk SD card costs $800 making it an extremely expensive alternative to shooting on separate smaller SD cards.
However, while SanDisk was focusing on size Lexar was focusing on speed. In a recent announcement, Lexar revealed two brand new 300mb/s 2000x UHS-II SD cards.
Lexar 300mb/s 2000x UHS-II SD Cards
| | |
| --- | --- |
| Size | Price |
| 64GB | $184.99 |
| 32GB | $104.99 |
This announcement comes at a time when SD cards are increasingly being pushed to their limits by modern camera demands. As 4K cameras become more and more popular users need to be able to record at high speeds and have high-capacity cards, Lexar's new SD cards do both. With a 300mb/s read speed and 260mb/s write speed the SD cards are fast enough to keep up even with the most modern equipment. Available in both 64GB and 32GB the new ultra-fast SD cards will allow users to record HD, 3D, and 4K video directly to the card.
Lexar 150mb/s 1000x UHS-II SD Cards
| | |
| --- | --- |
| Size | Price |
| 256GB | $549.99 |
| 128GB | $174.99 |
| 64GB | $97.99 |
| 32GB | $55.99 |
| 16GB | $31.99 |
In addition to releasing the new 2000x cards Lexar also revealed some updates to their 1000x SD cards. The 1000x 150mb/s SD cards now come in five newer sizes 16GB, 32GB, 64GB, 128GB, and 256GB. While the 1000x SD cards won't be able to record an uncompressed video they still can record 4K footage from certain cameras including the Panasonic GH4.
Availability
All seven of the new SD cards are scheduled to be released in quarter 4 of this year (October-December).
What do you think of these new cards? Are they worth the relatively high cost? Share in the comments below.