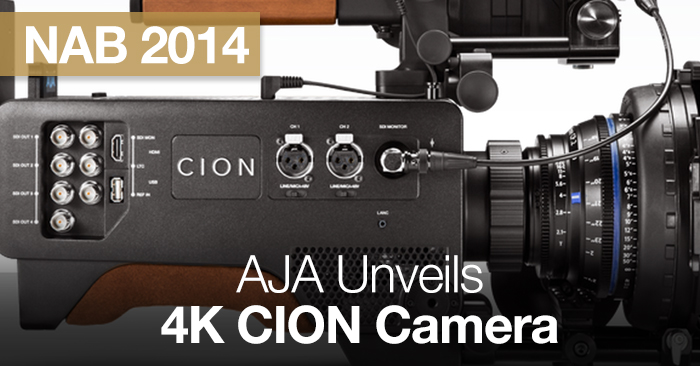 NAB 2014: AJA Unveils 4K CION Camera
AJA enters the camera world with their new 4K CION, announced at the 2014 NAB Show.
Before Blackmagic released the BMPC they were fierce rivals with AJA, a company dedicated to creating equipment related to film and video production. However, with a recent announcement at NAB 2014, AJA is trying to enter into the camera world. AJA already created everything behind the camera so it was only natural that they created their own…say hello to the CION.
AJA CION
Only a little bit is known about the CION, but here is what we do know so far. The camera is designed to be a intermediate level camera between high-end cameras like the red epic and lower end prosumer cameras such as DSLR's.
The camera is utilizing an APS-C CMOS sensor with global shutter. It can output 4K at up to 120 fps via 3G-SDI and can output 4K signal via  Thunderbolt at 30fps. It is designed for PL mount lenses and in-camera ProRes recording. Still not convinced? Check out this features video by AJA:
AJA Known Specs
Sensor
APS-C CMOS with Global Shutter
Dynamic Range
12 stops
Frame Rate
up to 120 fps via SDI output
Monitors
1 small built-in monitor
Chroma Subsampling
Up to 4:4:4
Recording
Cards
AJA Pack Media
Recording Codec
Apple ProRes
Video Resolution
4K, Ultra-HD, 2K, HD
Output
3G-SDI, HDMI, Thunderbolt
Input
Timecode, SDI.
Audio Inputs
2 XLR inputs with phantom power
Power
4-pin XLR power connector
Pricing and Availability
The CION projected to be priced at $8,995 and won't be ready to ship until summer 2014.
We will be interested to see how this competes with the Blackmagic URSA, a camera that is scheduled to be released this summer too.
What do you think of the AJA? Is it a good alternative to the Blackmagic or is it too late to the game? Share in the comments below.