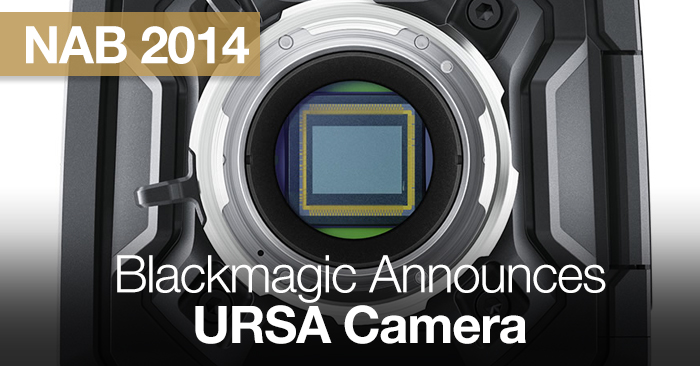 NAB 2014: Blackmagic Announces URSA Camera
Blackmagic's new "future proof" camera boasts 4K recording, a global shutter and 2 LCD monitors.
NAB 2014 has already proved to be just as exciting as expected. With AJA Video Systems entering the 4K camera world and Sony announcing a few of new XD-cameras, it's only natural that Blackmagic Design would have a slew of new announcements to kick off the conference.
Blackmagic URSA Camera
Blackmagic stated that after seeing such large and complex rigs being created around their "small intimate" camera's they decided that the public wanted a Blackmagic camera that could be used on larger productions. The result is the Blackmagic URSA Camera.
The camera was created for professional film/video shoots. The aluminum camera is broken up into three separate stations (DOP, Camera Assistant, Audio Engineer) for different crew departments.
The DOP station has a 10 inch fold out on set monitor with a separate 5 inch screen for adjusting on camera settings, camera status's, and scopes. The camera assist station has another LCD screen for camera settings, status, and scopes. Lastly, the audio station features meters, controls and various audio connections.
The camera has an upgradeable Super 35 4K image sensor with global shutter, 12G-SDI connections, XLR audio inputs with Phantom power and Dual CFast based RAW and ProRes recorders. The dual recorders mean you never have to stop recording to change out your cards. The camera was designed to be upgraded by the user. Blackmagic states that the camera sensor can easily be upgraded by simply taking out 4 bolts making it "future proof".
The URSA is available in 4 different models: an EF mount, a PL mount, B4 mount and HDMI. Blackmagic has created this camera with upgradability in mind so if you ever get tired of your EF mount camera you can easily purchase and install the PL mount on your camera and vise-versa, making it incredibly versatile. The B4 mount was specially designed for broadcasting lenses. The HDMI model is a lens-less and sensor-less camera that is solely intended to record and monitor footage. And with 2 great monitors that isn't a bad idea at all.
The camera records in 60fps but has a cooling feature that allows for recording far beyond 100 fps, so when faster sensors are released users can upgrade to the newer sensor to get more frames-per-second.
Blackmagic URSA Specs
| | |
| --- | --- |
| Sensor | Super 35 |
| Dynamic Range | 12 stops |
| Frame Rate | up to 60 fps |
| Monitors | 2 LCD monitors; 10 inch monitor and, 5-inch touch screen monitor. |
| Reference Output | SDI |
| Chroma Subsampling | Unknown |
| Recording Codec | 12 bit Cinema DNG Raw, Apple ProRes |
| Video Resolution | 3840 x 2160, 1920 x 1080 |
| Audio File Type | Unknown |
| Output | EVF HD-SDI, SDI video, SDI Audio, Timecode. |
| Input | Timecode, SDI. |
| Audio Inputs | 2 XLR inputs with phantom power |
| Power | 1 x 4pin XLR port for external power or battery use. 1 x 12v output using 4-pin XLR to power external accessories. Connectors for V-mount and Gold mount plates are available. |
Pricing and Availability
The Blackmagic URSA camera will be available in July of 2014 in the EF, PL, and HDMI models. The B4 mount release date has not been set yet but Blackmagic expects it to be soon. The URSA EF will be $5,995 and the URSA PL will be $6,495.
In each URSA Camera kit you get:
Blackmagic URSA
Active EF Mount turret
Turret Dust Cap
12V AC Adapter
Tripod mounting plate adapter
DaVinci Resolve
Blackmagic has many more announcements to make here at NAB 2014. Check back here on PremiumBeat's blog to get all the latest information.
What do you think of the URSA camera? Will it be a game changer in the professional film/video industry? Share in the comments below.