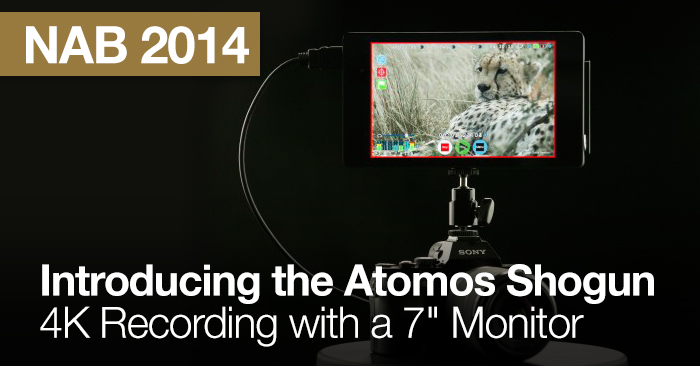 NAB 2014: Introducing the Atomos Shogun
The Atomos Shogun brings 4K RAW recording to a sleek, easy-to-use 7″ HD monitor.
There has been a lot of buzz at NAB this year including the release of the Blackmagic URSA Camera, Nuke Studio, and Sony's A7s. But one of the less "sexy" products announced at NAB 2014 is the Atomos Shogun. For those in video production, it's definitely worth checking out…
The Atomos Shogun
The Shogun, like the Ninja Blade and the Samurai Blade, gives users the ability to record footage while monitoring video via an attached monitor. However, the Shogun takes recording one step further with many additional features. These features include:
4K Video Recording
Cinema DNG RAW Recording
Apple ProRes 4:2:2 10bit Recording
HD-SDI Inputs and Outputs
HDMI Inputs and Outputs
120 fps HD recording
The monitor on the Shogun is noticeably improved from the Ninja Blade. The Shogun allows directors and DP's to record footage while simultaneously viewing waveforms, timecode, audio levels, and recording time remaining. The monitor also haves assist functions that gives users added features.
Pricing and Availability
The Atomos Shogun is going to run about $2,000 and is not expected to ship until early fall 2014. If you are interested in getting the latest information regarding the release of the Atomos Shogun than you can sign-up on the Atomos website.
What do you think of the Atomos Shogun? Is it worth the price tag? Share in the comments below.