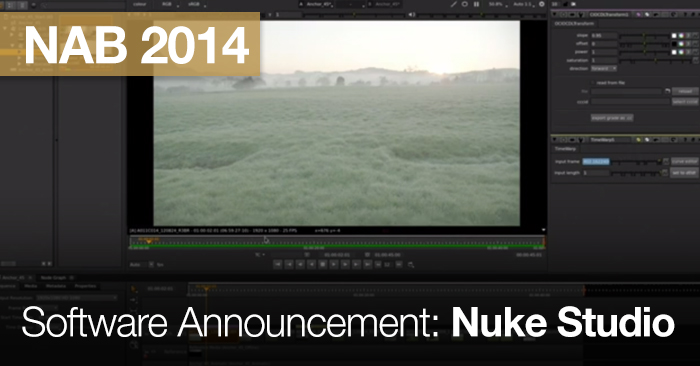 NAB 2014: The Foundry Announces Nuke Studio
The Foundry just announced Nuke Studio at NAB 2014 – editing and visual effects in a single app.

If you haven't been able to keep up with all the news coming out of NAB 2014 than you are in good company. With dozens of new cameras and products being announced it's hard to sort between the important announcements and the non-important. Well, we definitely have an important announcement to report! The software creators at the Foundry have just announced Nuke Studio, an all-in-one application specially designed for quick turn around projects that require VFX in a node based environment.
Unlike other VFX software such as Adobe After Effects, Nuke Studio will allow users to edit, color, add VFX and master their videos all in one program. Nuke Studio gives users the ability to render in the background, giving editors the ability to edit and composite video while they are currently exporting. This feature will save editors time, and subsequently a lot of money too. Don't take our word for it check out this unveiling video from this morning at NAB:
Pricing and Availability
Pricing has not been announced for Nuke Studio yet nor have we heard any credible rumors. We will definitely convey this information as soon as we get it. The Foundry stated that Nuke Studio should be available in late 2014 but that is as specific the information gets. If you want to register to be a beta tester or get up-to-date information you can "register your interest" on the Foundry's website.
What do you think of Nuke Studio? Will it be a serious competitor for Adobe? Share in the comments below.