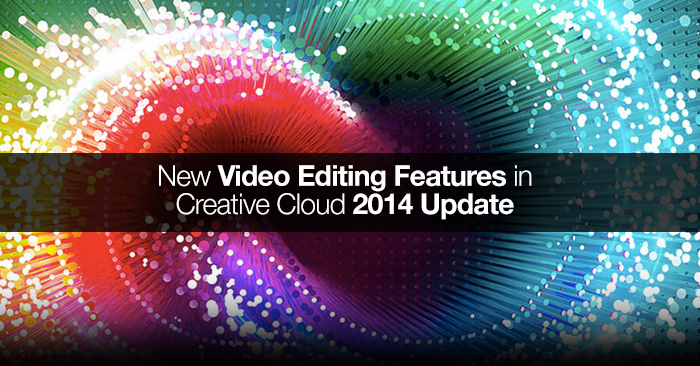 Adobe Updates Creative Cloud: Biggest Update in Years
Adobe's latest announcement offers improved features, especially for color grading and 6K workflows.
With over 2.3 million subscribers, the Creative Cloud has more active users than any other creative software in the world. Sure, it might not be fair to compare FCPX or Avid Media Composer to the Creative Cloud because they are so different, but the continued Creative Cloud success does make us feel like the industry is changing.
Today Adobe announced the largest update to the Creative Cloud since it's introduction in 2012. The update features improvements to every Adobe desktop program. There were a ton of really awesome feature updates, especially for Photoshop, but the following article will deal with only updates relating to Adobe's video editing/motion design software. If you are looking for more information regarding photo editing products or the new desktop apps we highly recommend checking out Adobe's website.
Highlights of the video editing software updates include:
SpeedGrade Dynamic Link
Matching Looks in SpeedGrade
Up to 6K Native Playback
Mask Tracking in Premiere
Two new After Effects keying features
All of these updates are available to Creative Cloud subscribers. If you aren't a subscriber to the Creative Cloud you can download a free trial today.
Color Grading
If you've ever tried to color correct using Adobe SpeedGrade than you know that it can be a pain to wait on your footage to render. Now instead of being forced to render out your footage from Premiere Pro to color correct it in SpeedGrade, users can use a "direct link" feature that brings your timeline directly into SpeedGrade with each individual clip being directly editable.
Ever have a reference image or video that you are trying to emulate through color correction? Adobe is offering a brand new "match look" feature that allows users to match an image's color properties using a single button. Very cool.
Instead of having to individually color grade clips you can save time by designating files to serve as "master clips". If you edit a master clip all color grading changes will be reflected across all related clips in the timeline.
After you are done color grading your footage in SpeedGrade, simply save your changes and go back into Premiere. Now you will be able to see your color grading changes from SpeedGrade in Premiere. Playback is fluid even in 6K.
New Premiere Pro Tools
Remember the mask tracking tool introduced into After Effects for the launch of CS5.5? Well you are now able to use the mask tracker in Premiere. Simply apply the desired effect that you wished to create a mask for, such as the fast blur, and select either a 4 point polygon mask or an elliptical mask. You can then go in and set tracking parameters in your effect controllers. If you decide you want to take your tracking data or masks into After Effects you can easily use the Direct Link to do so (you don't have to use the masks as trackers either). If you just want a plain feathered mask you can do that too.
Adobe also stated that they have changed the way Premiere functions with the computer so it will work better with new GPUs. Now users will be able to playback 4k, 5k, & 6k footage natively in Premiere Pro. Adobe will now have native support for Camera RAW, Cinema DNG (huge for Blackmagic and Magic Lantern users), ARRI Amira, Sony SStP, and RED integration on the GPU.
AE/Premiere Pro Integration

Photo courtesy of Studio Daily
We've seen a few unofficial announcements about it from NAB 2014 and a rather strange marketing stunt featuring Film Riot, but Adobe has officially announced Live Text Templates for Premiere Pro. Now users will have the ability to bring After Effects text templates and edit them in Premiere. Gone are the days of having to go back and forth between exporting lower thirds templates from After Effects. You can now save a ton of time using your own AE generated text templates.
However, Adobe didn't say if users would be able to edit picture or video fields using the new integration. Definitely a feature that we look forward to seeing in the future.
Adobe After Effects
If you do any sort of regular color keying in After Effects than you will be pleased to find out that Adobe has really eased a few new effects for chroma keying. Integrated with Keylight, users will now have the access to Key Cleaner and Advanced Spill Suppression effects. Each new effect gives users more control over their chroma key.
Pricing & Availability
The beauty of having a subscription service is that when there is a huge update you don't have to go out and buy new software. Everyone who has a paid subscription to the Creative Cloud can download and install the updates to their computers today!
Have any thoughts on the new video editing features in the 2014 Creative Cloud update? Anything they should have added? Share in the comments below.