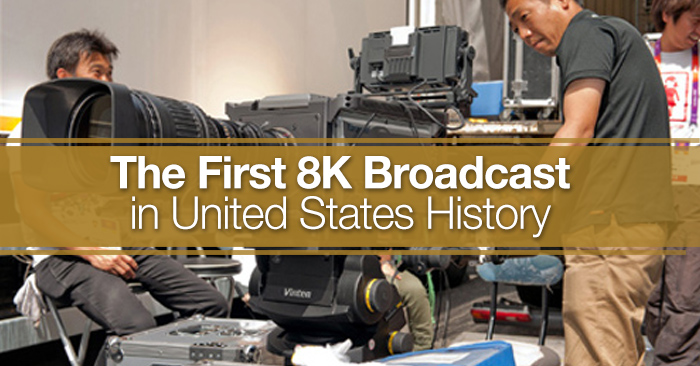 NHK to Make 8K Broadcast History at NAB 2014
NHK is set to demonstrate the very first United States broadcast of 8K video signal at NAB 2014.
In our previous article we examined the difference between 4K and HD in regards to its relationship with 8K video. Recent announcements made by NHK have inspired us to examine 8K broadcasting more in-depth…
8K Broadcasting
NHK is one of the world's leaders in future video technologies. They have been on the cutting edge of creating better viewing experiences in regards to video resolution. For example, they were testing HD signal at the 1984 Olympic Games, which was over 15 years before consumers were even buying HD TV's.
Fast forward to 2014 and NHK is the leading advocate for 8K broadcasting. Since 2012 they have been testing 8K video signal from their home in Japan. In January of 2014, NHK successfully transmitted a long distance broadcast of 8K signal with 22.2 surround sound from 27 kilometers (16.7 miles) away. The signal transfer happened on a single 6 MHz TV channel which shows it is possible to broadcast 8K signal using available airwaves.

NHK Broadcasting Test in Japan via Ubergizmo

This broadcast featured a data signal of 24 Gbits a second and has the ability to broadcast at 120 frames per second. Broadcasting the signal was possible due to Orthogonal Frequency-Division Multiplexing (OFDM), a data encoding method used in wi-fi signals. They also use multiple input/output data signals that breaks the signal up into 6 smaller parts. In short, the signal is impressive and definitely futuristic.
8K at NAB 2014
NHK has recently announced that they plan to demonstrate 8K broadcasting at the National Association of Broadcasters (NAB) show in April 2014. The demonstration, if successful, will be the very first 8K broadcast to ever happen the the United States. The broadcast will be featured on a 350 inch television with 22.2 point surround sound. NHK will be playing recorded 8K footage from the Sochi Olympics. They will also be sharing some of their findings regarding 8K resolution.

NHK 8K camera at the 2012 London Olympic Games via WhatHiFi
Where Can I See I the 8K Broadcast?
If you are interested in seeing this historic broadcast, you can check it out at NHK's booth in the Futures Park of North Hall at the 2014 NAB conference – booth N231. While your in Futures Park be sure to check out a live broadcast of HDR video presented by goHDR and the University of Warwick. A more detailed list of Futures Park can be found on NAB's website. We'll see you there!
Have any comments about 8K broadcasting? Share in the comments below.