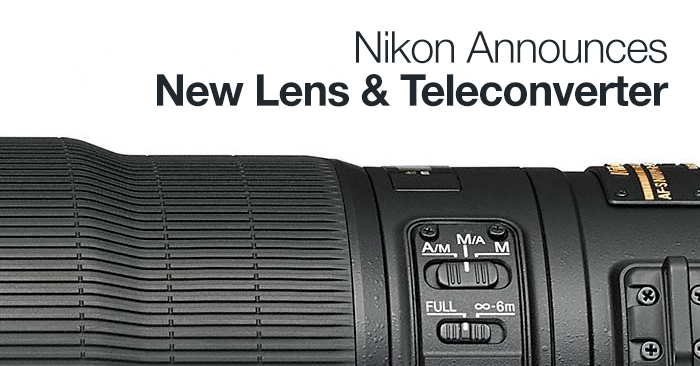 Nikon Announces New Lens & Teleconverter
Nikon's latest announcement introduces a super-telephoto lens and teleconverter to the photography world.
Following Canon's announcement of two new lenses yesterday, Nikon has just announced a new lens and teleconverter that will be on the market in the very near future. Both the New AF-S NIKKOR 400mm F/2.8E FL ED VR Lens and the AF-S Teleconverter TC-14E III are upgrades to existing equipment but nonetheless exciting.
AF-S NIKKOR 400mm f/2.8E FL ED VR
| | |
| --- | --- |
| Focal Length | 400mm |
| F-Stop Range | 2.8 throughout |
| Stabilization | VR |
| Elements | 16 |
| Crop-Factor Comparison | Blackmagic Cinema Camera (956mm)BMPCC (1152mm)ASP-C (640mm) |
The AF-S NIKKOR 400mm F/2.8E FL ED VR is a supertelephoto lens designed for professional photographers. The lens is boasts a ton of really impressive features including vibration reduction (VR) which allows users to get up to four stops of added image stabilization. The lens comes with two Extra-low dispersion (ED) elements and a nano crystal coat created to minimize chromatic aberration and flaring.
The lens features an electro magnetic diaphragm denoted by it's "E" label. The diaphragm allows for stable exposures when shooting at high shutter speeds. This lens was created for photographers who shoot sports, wildlife, or any other subjects that require a high speed telephoto lens.
The lens is almost two pounds lighter than it's predecessor and has a rotating tripod color designed for seamless transitioning between compositions.
AF-S Teleconverter TC-14E III
The new AF-S Teleconverter TC-14E III is a teleconverter designed to increase any Nikon lens focal length by 1.4x. The converter utilizes 7 internal glass elements to minimize exposure loss to only 1 stop. This is a helpful tool to anyone looking to get more focal length without buying a new lens. Users will also be able to utilize the auto-focus feature using this adapter.
Pricing and Availability
Both the AF-S NIKKOR 400mm f/2.8E FL ED VR lens and the AF-S Teleconverter TC-14E will be available in August of 2014. The 400mm lens will have a suggested retail price of $11,999 and the teleconverter will have an SRP of $499.95.
What do you think of the latest announcements from Nikon? Share in the comments below.