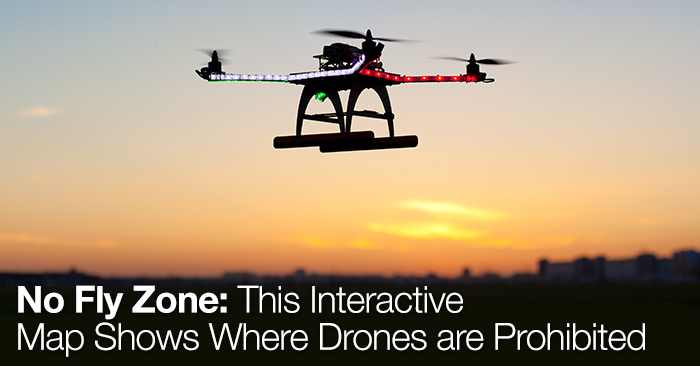 No Fly Zone: This Interactive Map Shows Where Drones are Prohibited
Video producers take note! The following detailed map shows you all the places you can and cannot fly a drone.
Video drones are awesome. From shooting incredible nature footage to superhero spoofs, drones can create some spectacular videos. So it's no surprise that the market is flooded with new drone models coming out. As video drones get cheaper we can expect to see more and more flying through the skies.
However, concerns surrounding drone safety have begun to find their way into pop culture. For example, a runner at the Geraldton Endure Batavia triathlon in western Australia received injuries after allegedly being struck with a drone. In Ohio a man faces felony charges after refusing to down his drone so a medical helicopter could land. Even the name "drone" implies scary robot overlords or unmanned death planes. With all the negative press surrounding drones, it's no surprise that there has been stricter regulations in regard to drone piloting.
As of June 21, 2014 national parks have been designated "no drone" zones along with airspace surrounding airports. 11 states have already passed drone regulatory legislation with many more to come, so figuring out where you can and cannot fly a drone can be really quite confusing.
Luckily for us the good people at The Verge have created an interactive showing us where drones are prohibited. This map only takes into account "no fly zones" surrounding national parks, military bases, and airports. Before you fly a drone for your next big project you need to make sure your state allows for commercial drone use.
This map was created by The Verge. Thanks for sharing guys!
What are your thoughts on "no drone" zones? Should there be more or less regulation? Share in the comments below.